Former US President Donald Trump is leaving open the possibility of re-running for the White House in 2024. Advisors are now urging him to choose a replacement for former Vice President Mike Pence to run for the election.
Sources familiar with the matter told Bloomberg that the former president had privately discussed with allies and advisers who could replace Pence as "deputy general," as he recalled who the loyalists were. and who turned his back on him at the end of his term.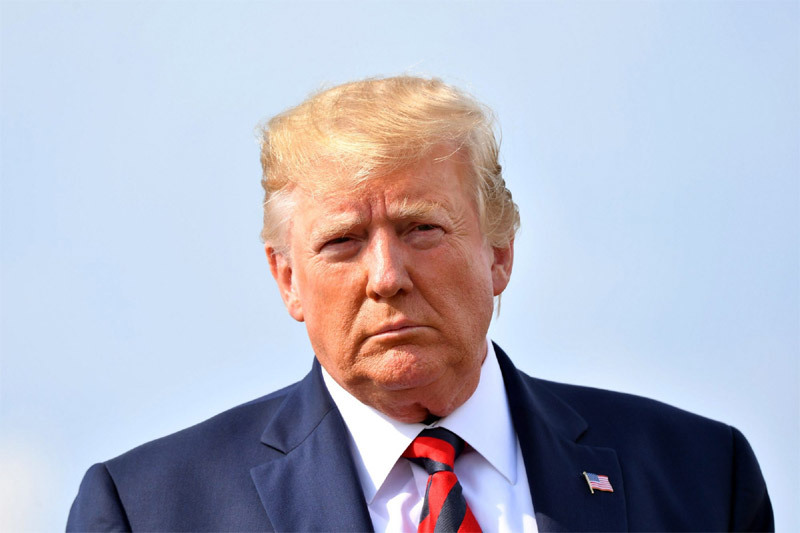 Former US President Donald Trump. Photo: People
Mr. Trump once sharply criticized Mr. Pence after the former Vice President refused an order from the outgoing White House leader to unilaterally overturn the election victory of Democratic rival Joe Biden when he was still president of the Senate. House of Representatives and chaired the official confirmation of the 2020 general election results at the meeting of the two houses on January 6. According to CNN, Pence's decision to endorse Biden's victory led to a hitherto unresolved rift between him and the former president.
Observers said that Mr. Pence is unlikely to be chosen by Mr. Trump again if the former president decides to run for re-election in 2024. The reason is because Mr. Trump wants to connect with Republican politicians who have always supported him. defended his allegations of 2020 election fraud and stood with him in his second impeachment process for allegedly inciting riots at the Capitol on Capitol Hill on January 6.
Timothy M. Hagle, a political science professor at the University of Iowa, thinks Mr. Pence himself may not want to be vice president again.
According to sources, about a potential candidate for the position of deputy prime minister, Mr. Trump is eyeing South Dakota Senator Kristi Noem. Noem has drawn public attention for her loyalty to Mr. Trump during the campaign as well as her attempt to disprove last year's election results.
The Trump family clearly acknowledges Noem's support. Last week, Donald Trump Jr., the former president's son and girlfriend Kimberly Guilfoyle hosted a fundraising event for the governor at his Mar-a-Lago resort in Palm Beach, Florida amid There is a lot of speculation about Noem running for election in 2024.
Alyssa Farah, Trump's former communications director, recently told Bloomberg's Sound On radio program that Noem was at the top of the vice presidential shortlist. Ms. Farah believes that the female governor of South Dakota can help Trump attract more independent voters and female Republican voters, the group the former president lost in the 2020 general election. Professor Hagle believes Ms. Noem is the trump card to help Mr. Trump win the support of rural female voters.
Another possible option is Republican Senator Tim Scott of South Carolina, the only black lawmaker in the Senate and also a multiple Trump supporter during his presidency. Last week, Mr. Trump also publicly supported Scott's bid for re-election to the Senate.
Jacob Neiheisel, a former campaigning expert who now teaches political science at the University of Buffalo, praised Scott in discussions about police force reform and his ability to neutralize or offset many negative points in Mr. Trump.
Another vice presidential candidate could be former US Ambassador to the United Nations Nikki Haley, an Indian-American who served as South Carolina's first female minority governor. Even so, Ms. Haley could be seen as unsuitable for Mr. Trump after she publicly distanced herself from the former president because of the riots on Capitol Hill and his treatment of former Vice President Pence.
Analysts also note that running mates have little direct influence over voters because they tend to focus voting decisions on the presidential candidate rather than the vice-presidential candidate. system. So if Mr. Trump and his team of advisers are considering picking a deputy based purely on how well they can entice lost supporters from the 2020 general election, the former president will need to do a lot of work. to convince Americans to vote for him in his bid to re-run for the White House.
In addition, Trump has not yet officially confirmed whether he will run again or not. He himself was known to reverse or change plans without warning.
Observers say that, if Mr. Trump finally decides to run for re-election to lead the US government in 2024, he will likely wait until the summer of 2023 to make an official announcement. And between now and then, there may be more surprises to come, forcing the former president to make new calculations, including choosing a deputy for the next race to the White House.
Tuan Anh

Mr. Trump reappears, making important political speeches
In an important political speech marking his return from office, former US President Donald Trump hinted that he could run for the White House leadership seat again.

Former Vice President Pence reveals his relationship with Mr. Trump
Former US Vice President Mike Pence had a meeting for nearly 2 hours with the Republican Research Committee (RSC) about the future of the party just days before former President Donald Trump is expected to make an important return.