According to the Wall Street Journal, this raises concerns that much of the world will still have to battle the coronavirus and its effects through 2022, or beyond.
Although the United States and several countries made great progress in immunizing most of their populations late last summer, many health experts and economists say that, for the most part in Asia, Europe and Latin America are still facing severe vaccine shortages.
UBS bank estimates that, with current progress, only about 10% of the world's population will be vaccinated against Covid-19 by the end of this year, and 21% by the end of 2022. Only 10 countries have It is possible to reach the goal of vaccinating more than a third of the country's population this year.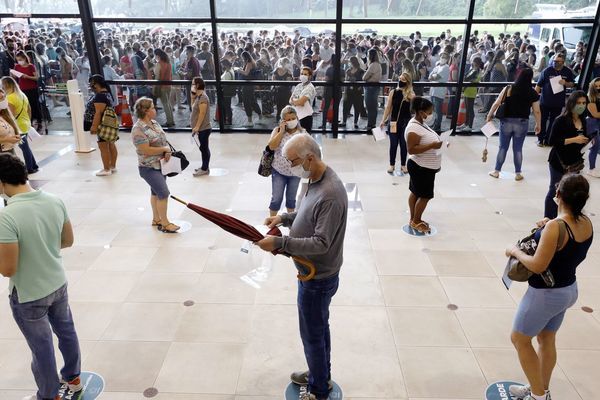 Photo: Reuters
The uneven distribution of the Covid-19 vaccine means that the corona virus can continue to exist for many years, especially in "outbreak" countries such as Brazil and South Africa. Even many virologists fear that over time, new variants of the corona virus may emerge, making existing vaccines less effective.
The different pace of Covid-19 vaccine deployment also makes the development prospects of the world's main economic blocs different. According to the International Monetary Fund (IMF), the US economy may grow 5.1% this year, but the recovery of the euro area and other developing economies is still very precarious. , due to delays in vaccination campaigns.
The World Bank forecasts that remittances, an important source of income for developing countries, will continue to decline by 7.5% this year, after a 7% decline last year. Hospitality business in regions such as Southeast Asia and the Pacific is not expected to recover until the middle of next year. Concert halls and schools may be closed for longer than expected, meaning international students will not be able to enroll between now and mid-2022.
According to estimates by the International Air Transport Association (IATA), the volume of intercontinental flights until 2023 will not reach the level of 2019. Nick Careen, Senior Vice President of IATA, warned "We're talking years rather than months, and that has something to do with disparities in vaccination rates," the report said.
Another issue is that delays in manufacturing and shipping the Covid-19 vaccine from some countries could have a domino effect on others, according to the Wall Street Journal.
Europe, despite being a leading producer of many vaccines, last month had problems that made it difficult for many factories there to maintain their progress. Even the EU on January 29 had to issue measures to prevent the export of Covid-19 vaccines to countries such as Canada, Japan or the US.
Similar problems are also causing Japan to struggle to provide the necessary doses of vaccine to its people between now and the end of June. Taro Kono, head of Covid-19 vaccine development at the company Japan, admits he also cannot know when people in the country overall have been vaccinated.
In China, despite having started the Covid-19 vaccination campaign with homemade vaccines, the country's approval and production arrangement is still slower than expected. One of the signs of this is that vaccine maker Sinovac is having trouble hiring new workers, according to a report from a Beijing government office.
"The main problem lies in the volume of production," Guo Wei, deputy secretary general of the Medical Logistics Association, under the National Administration of Logistics and Procurement of China, said in an interview. Guo Wei also said that, based on estimates of domestic vaccine manufacturers' output, China will not be able to achieve herd immunity this year.
According to estimates from strategic consulting group China Trivium, a total of 850 million doses of the Covid-19 vaccine is the highest that China can produce in 2021, while 1.68 billion new doses are considered as The most complete number to vaccinate the entire population of this country. According to the Economic Intelligence Agency, although it does not rule out the possibility that some major Chinese cities will achieve herd immunity this year, this is unlikely to happen across the country until the end of 2022. .
Any delay in vaccine production could affect other countries. For example, Morocco plans to vaccinate 80% of its population in the coming months, partly due to vaccine imports. request from China. However, the country's officials say they have not received the full supply of the vaccine needed, and are blaming the delay from the manufacturer.
Similarly, Argentina planned to receive 5 million doses of Russia's Sputnik V vaccine last month, but only received 800,000 doses because of production delays in Russia.
Analysts also cast doubt on the immunization targets some countries claim to achieve this year. Indonesian officials want to vaccinate 65% of the country's 270 million people with a Covid-19 vaccine within 15 months, or the Philippines wants to reach its goal of vaccinating 70 million people by 2021. But according to analysts. from IMA Asia, this will likely take 3 to 4 years to be completed.
"We doubt whether they can achieve half of this target by 2021," IMA Asia said in a recent report.
Vietnamese-English

Korea extends 'social distancing' due to Covid-19
Prime Minister Chung Sye-kyun said that South Korea will continue to implement social distancing for another two weeks until the end of the New Year due to the Covid-19 epidemic.

The US is 'lost' nearly 20 million doses of Covid-19 vaccine
The administration of US President Joe Biden currently does not know where nearly 20 million doses of Covid-19 vaccine are located, after ordering them to be sent to many states.