On the one hand, many in the region are concerned by President Xi Jinping's ambitions to regain China's central position it once enjoyed in East Asia before being ousted by the West and Japan in the world. 19th and 20th century.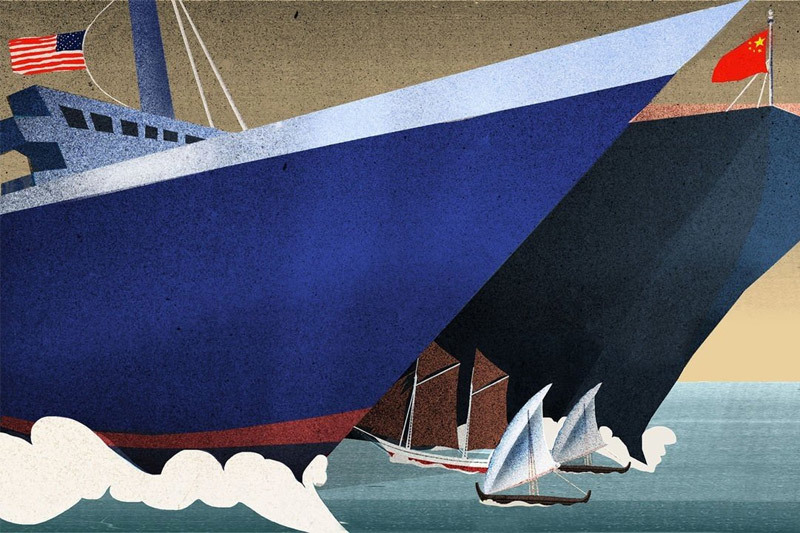 Illustration: The Economist
According to commentator Dominic Ziegler, this is not only reflected in China's challenge to the territorial and maritime claims of Brunei, Indonesia, Malaysia, the Philippines and Vietnam in the South China Sea, where much of its activity is located. China's seaborne trade also goes through.
The ambition is also reflected in Mr. Xi's call for "Asian people to run Asia's affairs", which sounds like a hint that China will run Asia.
On the other hand, although ASEAN member states welcome the US as the dominant military power in the region to counter China's growing power, they understand that conflict would be catastrophic for them.
Southeast Asian diplomats have not loudly cheered for the anti-China rhetoric of former US President Donald Trump's administration, which is unlikely to soften much under current White House leader Joe Biden. In addition, few governments in the region see the American political model as a model to follow.
The first reason, Mr. Ziegler said, is that China is too close and too powerful to resist. The country is by far the largest trading partner and second largest investor in Southeast Asia after Japan. ASEAN's prosperity is tied to China as well as to the mainland's supply chains.
And as Sebastian Strangio, a keen regional observer points out in his new book In the Dragon's Shadow, Southeast Asia has an important role to play. important role in China's growth and stability.
So how not to get stuck between two giants? The region's strategists remind themselves that, when the great powers go head to head, things have gotten worse. Ziegler believes that, for 2021, the region's experience in dealing with great power competition will become a prominent issue.
Southeast Asia has lived under Chinese influence for millennia, and ASEAN member states have seen an American presence since World War II. According to Bilahari Kausikan, who was once Singapore's top diplomat, the region's approach in the coming time will be "hedge, balance and synergy" between the two sides.
International relations majors are often taught that only one of these three approaches can be taken at any given time. However, Kausikan argues, pragmatic Southeast Asians are capable of doing all three at the same time. For example, in 2021, the Philippines under President Rodrigo Duterte will continue to seek to attract Xi to increase Chinese investment but at the same time expect a rapid improvement in the once strained military relationship with China. America.
Southeast Asia in 2021 will also do more to invite other powers, especially Japan, South Korea, Australia and India, to share in both prosperity and security in the region.
The hedge, balance, and synergies are based on the grand assumption that neither the US nor China really intend to completely decouple their economies from each other. That calculation may be correct, and even as tough competition and negotiations between the two powers reshape global supply chains, Southeast Asians still intend to benefit from it.
Even so, it is a gamble and other risks are always lurking. It is equally important to them to maintain ASEAN unity. The most frightening risk, however, is perhaps an unintended clash between China and the United States over the South China Sea. In the event of a military conflict, hedges, balances, and synergies will ultimately get neither side far.
Tuan Anh (according to The Economist)

Experts tell Mr. Biden how to deal with China
US President Joe Biden has made China his first foreign policy priority. But his proposal to consult with US allies before acting is seen as the wrong way to start.

A series of Western countries sent warships to the South China Sea to challenge China
The US, Canada and a number of Western European countries have been promoting plans to send warships to the East Sea to counter China's illegal sovereignty claims.