A couple decided to take their wedding to the next level – literally.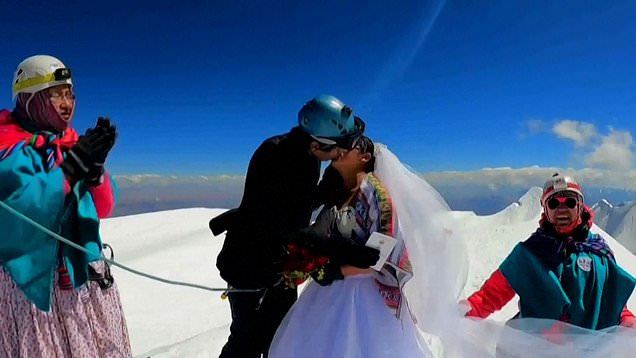 Jhonny and Heidi were very lucky as the sunshine and pleasant temperatures made the ceremony at the top of the mountain even more shimmering.
Jhonny Pacheco and Heydi Paco decided to get married on top of Illimani – this is the highest mountain in the Cordillera Real, the second highest in Bolivia, and the 18th highest in South America.
Groom Jhonny said the couple was determined to have a unique wedding, after they got engaged on top of Huayna Potosi mountain, a peak near La Paz that has an elevation of 6,088 meters.
"Of all the mountains I've climbed in Bolivia, there's something very magical about Illimani, something that draws you in and wins you over," said Jhonny.
They choose experienced mountaineers as bridesmaids and groomsmen and together plan the big day.
The decision required a lot of preparation, as it took the bride and groom three days to climb to the top from the Bolivian capital, La Paz. However, despite the challenging task ahead, they still wanted a wedding ceremony with traditional ceremonies. They tasked several team members with carrying robes, decorations and food up the mountain, each packing 20kg of belongings into their backpacks.
The group hiked for a day to reach a mountain campsite called "Nido De Condores" before departing the next morning on the most challenging stretch of the journey.
They finally reached the summit on August 7 when the temperature was -10 degrees Celsius.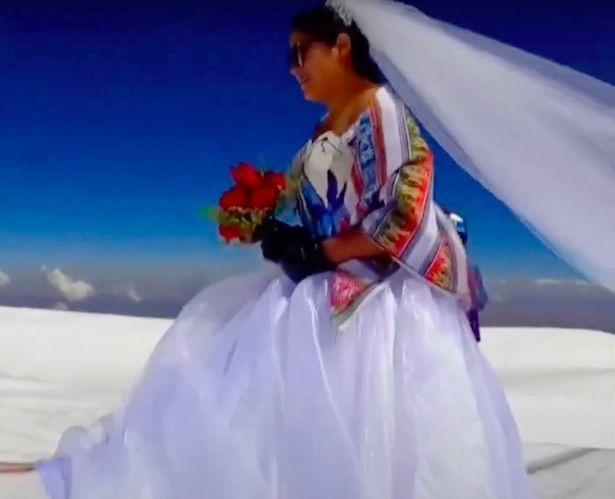 Johnny and Heidi set off from their home in Cochabamba to La Paz before embarking on a three-day journey to the summit.
Footage of the ceremony shows groom Jhonny wearing a helmet walking down a makeshift aisle decorated with flower bouquets while clinging to his best man. Meanwhile, bride Heydi wore a veil, long wedding dress, carried a bouquet of roses and was led to her fiancé by a rope.
Agustin Gonzales, a mountaineer and wedding representative, said of the special day: "They are sports lovers and nature lovers. Because of that, they decided to make their vows on the top of this mountain."
"Eternal snow" is an image often referred to when talking about Mount Illimani. Therefore, holding a wedding on this mountain top carries a lot of meaning. Heydi said: "My dream has come true. As a couple, we will remember it forever."
Dang Duong (According to Mirror, Metro)

Funny scene of the bride, groom… doing push-ups in the wedding
The bride and groom surprised the guests at the wedding when they wore full suits and did push-ups during their wedding.