In an article on the East Asia Forum on March 28, author Jia Qingguo of Peking University cited many as saying that strategic competition will continue to shape relations under President Joe Biden, although the understanding of strategic competition may be quite different from that of the previous administration.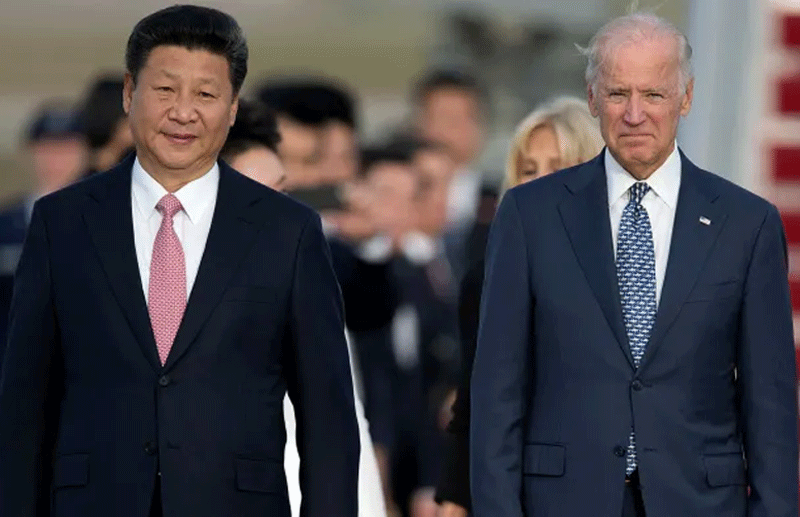 Joe Biden (right) and Chinese President Xi Jinping during a meeting when Mr. Biden was Vice President of the United States. Photo: AP
According to Jia Qingguo, the strategic competition between the US and China under Mr. Trump is quite unfavorable. First of all, it is a competition to weaken, not outperform. The Trump administration abandoned the binding policy pursued by previous US administrations after normalizing relations with China in 1979. He pressured other countries to work with the US to contain it. China.
Many in China, both inside and outside the government, believe Beijing should not tolerate this. They argue that what the US wants from China is not only money but also life. That leaves China with no choice but to fight for its existence.
Second, the US-China strategic competition under the Trump administration is one where the end justifies the means. To rally domestic and international support to contain China, the Trump administration has frequently referred to Covid-19 as the "Chinese virus", describing China's Belt and Road Initiative as a debt trap. and China's economic growth is the result of American technology theft and unfair economic policies.
Some Chinese have responded, accusing the US of repeatedly causing conflicts abroad to advance its interests in the name of defending freedom and democracy. A senior Chinese diplomat even suggested that it was a US military laboratory that was the source of the Covid-19 outbreak.
The harsh words that the two sides have for each other deepen the distrust and hostility. The two sides find it difficult to cooperate on anything, including how to respond to the Covid-19 pandemic. Both the US and China have imposed sanctions on each other's companies and officials, closing each other's consulates, stopping official channels of communication, accompanied by statements criticizing and condemning each other. .
Author Jia Qingguo asks: Is this the kind of strategic competition the Biden administration wants to pursue?
On the surface, he assessed, that seems to be the case. During recent congressional hearings, senior US officials said they believed the Donald Trump administration was right to take a tough approach towards China. They believe the Biden administration will work with US allies to put pressure on China. The prelude to the US-China summit in Alaska last weekend also seemed to reflect these sentiments.
But closer analysis shows that, despite the tough language, the Biden administration's understanding of strategic competition could be quite different, according to Jia Qingguo.
According to the author, President Biden seems to favor a strategic competition to outperform the opponent. At home, he promised to focus on issues such as restoring unity, freedom and democracy, investing more in education and science, and reversing the trend of economic polarization. Abroad, the Biden administration has vowed to work to restore ties with allies and rally international support to address global challenges, including the Covid-19 pandemic, recovery and growth. economic growth, as well as climate change.
While accepting some aspects of the increasingly adversarial Sino-US relationship, the new US administration believes that the two countries have important common interests in a number of other areas, providing opportunities for cooperation.
Crucially, the Biden administration doesn't believe a full-blown confrontation with China would benefit the United States. While endorsing a tough approach to China, Secretary of State Antony Blinken said that President Biden's China policy would be different from that of his predecessor. Although confrontational on some issues, the new US administration will seek to cooperate in areas where the two countries have common interests.
It is not clear how the Biden administration will deal with the problems between the two countries. It also depends on how Beijing responds to Washington's actions. Given the two sides' negative publicity about each other, a positive strategic competition remains difficult, if not impossible, according to author Jia Qingguo.
Thanh Hao


US Secretary of State urges allies to join hands to deal with Russia, China
US Secretary of State Antony Blinken said Washington and its allies need to coordinate policies to respond to "challenges" posed by Russia and China.

China says it does not intend to replace the US
China's goal is not to replace the United States as the world's leading nation.