As one of the most experienced foreign policy experts among recent US presidents, Joe Biden has made it clear he wants to focus his foreign policy primarily on China and restart negotiations. with Iran to rejoin and strengthen the nuclear accord negotiated under Barack Obama. He also advocated a hardline but normalized US stance towards Russian leader Vladimir Putin.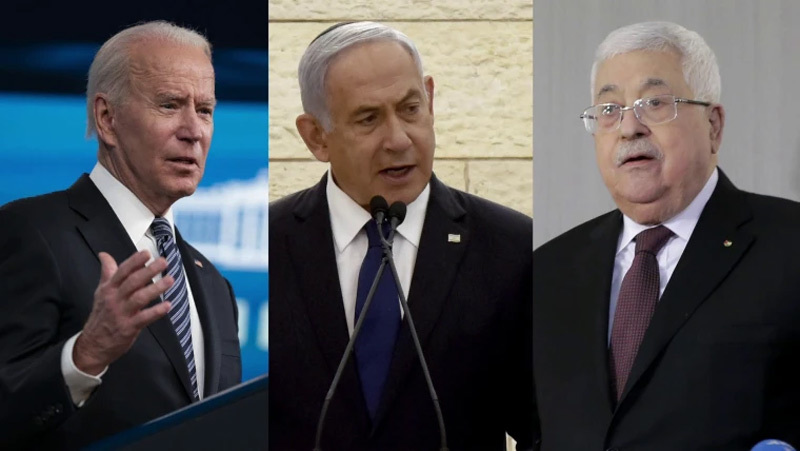 US President Joe Biden, Israeli Prime Minister Benjamin Netanyahu and Palestinian President Mahmoud Abbas. Photo: NBC News
NBC News quoted White House officials as saying that resolving the Israeli-Palestinian conflict – which has plagued many US presidents – is a much less urgent matter.
Notably, any attempt to rebalance U.S. policy and include the reasonable Palestinian claims in negotiations will face challenges, after former President Donald Trump turned away from decades of bipartisan commitment to a two-state solution and excluded the Palestinians from diplomatic negotiations, excluding them from but contributing Washington to UN relief funds.
Donald Trump's strategy, designed by his son-in-law Jared Kushner, is rooted in Israeli Prime Minister Benjamin Netanyahu's support for the hard-line policies of ignoring the Palestinians in favor of forging diplomatic links. between Israel and several Arab countries. That was successful, helping Israel to be recognized by several Arab countries.
But the leaders of those Arab countries never thought about the recent developments in Jerusalem, when Israel expelled the Palestinians from the homes they had lived in for generations, and fired rubber bullets at the Al–Islamic mosque. Aqsa during Friday night prayers at the end of the holy month of Ramadan 10 days ago.
While no one is sure which side turned protests around the mosque into violence, the incursion into the building – Islam's third holiest site – triggered a barrage of rockets from the Gaza Strip, and Israel immediately responded with air strikes. The conflict then escalated to the brink of all-out war.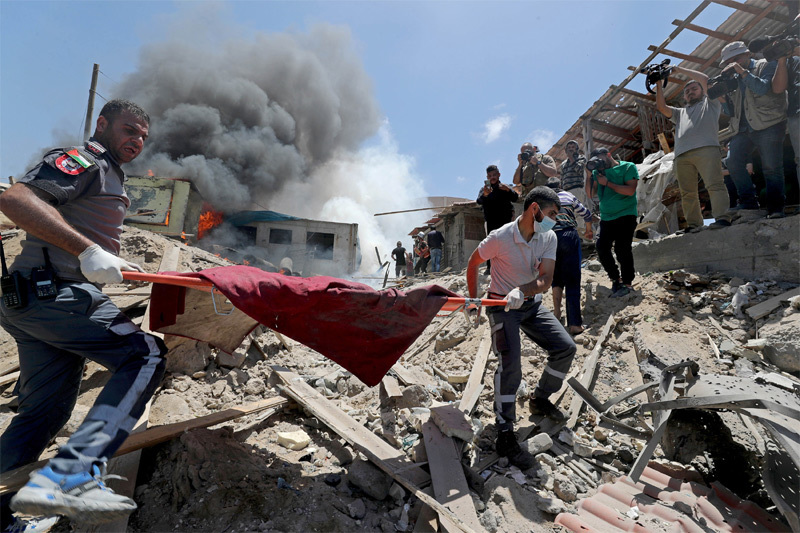 Fighting between Israel and Hamas has left Gaza devastated. Photo: NBC News
So how is this conflict different from the last one between the two sides 7 years ago?
The violence has expanded into conflict between Israeli Arabs and Jews in communities across Israel, beyond the Palestinian territories. Although Israel has not yet attacked Gaza from the ground, the level of air combat in both directions is much more intense.
And American political support for Israeli policies has also changed: There is increasing pressure from the progressive camp of the Democratic Party for a more equitable approach, recognizing Palestinian rights, Israel is America's biggest ally in the Middle East and is also the single largest recipient of US military aid.
Even Senate Foreign Relations Committee Chairman Robert Menendez, DN.J., a staunch supporter of Israel, released a statement over the weekend, criticizing Israel's military attack on the building that has been damaged by Israel. headquarters of the AP, BBC, Al Jazeera… Prime Minister Netanyahu argued that the building was a place of military intelligence for Hamas but did not disclose the evidence.
That attack, as well as the high death toll among civilians in Gaza, prompted concern from 28 other US senators and sparked a number of pro-Palestinian protests in the US. US Secretary of State Antony Blinken, currently in Denmark, is under pressure to do more, and is likely to visit the region if conditions warrant.
But US efforts to mediate a ceasefire between Israel and the Palestinians have encountered some notable setbacks. The Biden administration does not have a top diplomat in Israel: No ambassador, no consul general, only a low-level envoy, Deputy Assistant Secretary of State Hadi Amr. And the US dealing with Israeli and Palestinian leaders is historically weak.
The US also does not work openly with Hamas, which is classified as a terrorist organization, but relies on contacts through Egypt and Qatar. Another challenge is that the key players in the current confrontation have little reason to de-escalate the conflict. Both Mr. Netanyahu and Hamas want to project political power through military action.
If there is any chance of a ceasefire now, it may be because both Israeli Prime Minister Netanyahu and Hamas leaders probably believe their political goals have been achieved, according to NBC News.
Thanh Hao


China proposes 4 points to resolve the Israeli-Palestinian conflict
Chinese Foreign Minister Wang Yi, on May 16, said that Beijing had made a four-point proposal regarding the current escalating conflict between Israel and the Palestinians.

US talks with many Arab countries on Israel-Palestinian conflict
US Secretary of State Antony Blinken had separate discussions with his Egyptian, Qatari and Saudi counterparts about the violence in the Gaza Strip.