The Senate trial is drawing to a close, and ABC has raised a number of issues involving Mr. Trump and Congress.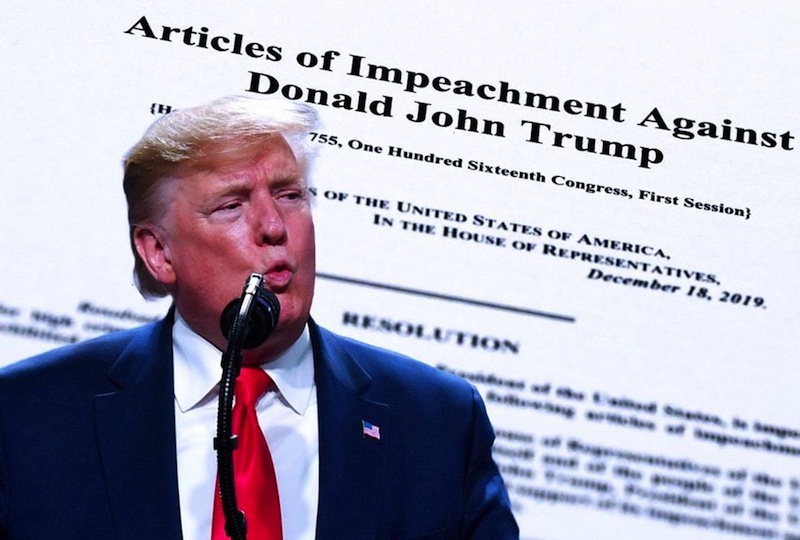 Photo: Salon
Why was Mr. Trump impeached?
The US House of Representatives, on January 12, impeached President Trump for the second time, accusing him of "inciting riots" during the rioting protests on January 6. The four-page impeachment article said Mr Trump "seriously jeopardized the security of the United States and agencies of the Government". The House of Representatives voted 232-197 to impeach Trump, including 10 Republicans.
The proceedings moved at lightning speed, with lawmakers voting just a week after Trump supporters flooded the Capitol at the President's call to oppose the congressional confirmation session. Voters recognized Joe Biden's victory.
Trump's impeachment trial in the Senate will be the first with a US president no longer in office. Some have questioned whether impeachment came so close to the end of the term, but this actually has precedent in the US. In 1876, during the Ulysses Grant administration, Secretary of War William Belknap was impeached by the House of Representatives on the day he resigned, and the Senate convened a trial a few months later. William Belknap was acquitted.
When will the second Trump impeachment trial begin?
Arguments at the trial will begin on February 8. Senate Majority Leader Chuck Schumer announced the schedule after reaching an agreement with Republicans who tried to delay Trump's chance to organize his legal team and prepare his defense. .
The aforementioned timeline also allows the Senate more time to confirm President Biden's nominations to the Cabinet and consider his proposed $1.9 trillion Covid-19 aid package – A top priority on the new White House agenda is at risk of stalling during the impeachment trial.
Those in charge of impeachment in the House are Representatives Jamie Raskin of Maryland, Diana DeGette and Joe Neguse of Colorado, David Cicilline of Rhode Island, Joaquin Castro of Texas, Eric Swalwell and Ted Lieu of California, Del. Stacey Plaskett of the Virgin Islands and Madeline Dean of Pennsylvania.
Democratic Senator Patrick Leahy of Vermont will preside over the trial.
Defense attorney David Schoen, a frequent television legal commentator, and Bruce Castor, a former Pennsylvania district judge who were once criticized for his decision not to convict actor Bill Cosby in a crime case sex, will direct Mr. Trump's legal defense team.
The two were chosen by Mr. Trump just a day after it was reported that the former president had broken up with a group of lawyers earlier in the context of only a week before the Senate trial.
Will the US Senate convict Trump?
In late January, Republicans in the Senate overwhelmingly voted against continuing the trial against former President Trump. This is a clear indication that he is unlikely to be found guilty.
In a 55-45 procedural vote, the Senate rejected Kentucky Senator Rand Paul's suggestion that impeachment was unconstitutional. However, the support of 45 Republicans for the trial's claim to be invalid makes it difficult to convict Mr. Trump. Because if he wants to convict him, he will need the support of all Democrats and 17 Republicans, or two-thirds of the Senate.
Where Mr. Trump is found guilty?
If the Senate convicts former President Trump, lawmakers could then hold a separate vote on whether to bar him from future office. In order for this to happen, it only needs the consent of a majority of senators, not the 2/3 level as when convicting him.
What happened in the first impeachment?
Mr. Trump was first impeached by the House of Representatives in 2019 for his dealings with Ukraine. The trial, which took place in early 2020 and lasted about three weeks, alleges that he pressured Ukraine to investigate his then Democratic opponent Joe Biden by withholding pledged aid. However, he was acquitted.
Thanh Hao

Mr. Trump 'won big' in 2024?
Peter Navarro, an economics professor and former director of the White House Trade Council, predicts former President Donald Trump will win "a landslide" if he runs for re-election in 2024.
Trump picks new defense chief at impeachment trial
Former US President Donald Trump's office announced that attorneys David Schoen and Bruce L. Castor will lead the legal team defending him at his Senate impeachment trial next week.