In his first days in office, US President Joe Biden issued a series of executive orders to nullify his predecessor's policies on many issues, with the exception of China.
In an article for the Nikkei Asia newspaper, Richard McGregor, a senior fellow at the Lowy Institute in Sydney (Australia), said that for China, Biden's upcoming cabinet supports the views of the Donald Trump administration.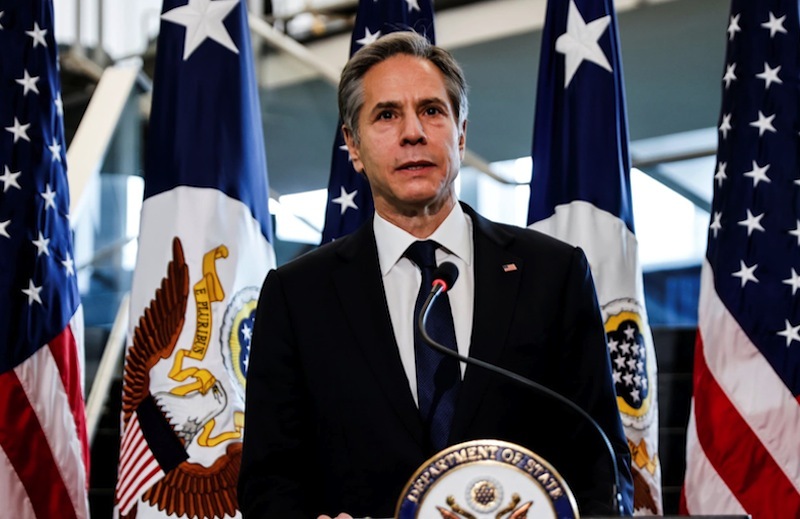 US Secretary of State Antony Blinken speaks at the State Department on January 27. Photo: Reuters
The author points out that while Secretary of State Antony Blinken and National Security Adviser Jake Sullivan have yet to make statements that echo the tone of their predecessors, the trend makes it very clear that Beijing will demonstrate see the continuation of China policy from Washington.
There are many reasons for this, especially the fact that China under President Xi Jinping has become more powerful and assertive economically and militarily in recent years. Another factor that makes the Biden administration so determined to pursue its China policy is the shadow of the White House under President Barack Obama.
After the outbreak of the Covid-19 pandemic, China recovered strongly. The upheavals in Washington during the transition from the Trump administration to the Biden administration further confirm the view of many in Beijing – that the Chinese system works and the American model is broken. They argue that one system brings stability, and the other brings chaos, violence and instability.
"China's rise so far has been peaceful, but is America's decline peaceful?" asked Colonel Zhou Bo of the PLA Academy of Military Sciences in the Post. South China Morning Post (SCMP) late January issue. Implicit in this question is the notion that China's rise is inevitable and will take place alongside America's decline, according to the author. Richard McGregor.
Joining the administration of new President Joe Biden has many figures who have served in the Obama administration. The list includes key figures like Mr. Blinken, Mr. Sullivan, and incoming coordinator for Indo-Pacific policy Kurt Campbell, and the Pentagon's China policy chief Ely Ratner .
The Obama administration has been criticized for failing to acknowledge the breadth of China's strategic ambitions. Obama's initial reluctance to take a hard line on China may have been because he wanted to differentiate himself from his predecessor, George W. Bush, who advocated bringing the United States into "forever wars" in Iraq and Afghanistan.
When he took office, President Obama inherited the ramifications of a devastating financial crisis and spent much of his first year in office persuading Congress about measures to revive growth. The administration has "pivot" to Asia – a policy that has won great acclaim. But in reality, this policy has lost momentum.
Now, the Biden administration is facing a similar challenge to the Obama era at home, which is to revive an economy that has been reeling from the Covid-19 pandemic. But it is clear that Mr. Biden also wants to move quickly on foreign policy.
It is clear to members of the new US administration that Mr. Trump is very tough on China and has thus gained leverage over Beijing. And the US State Department's statement on January 23 will be important in putting a stamp on an issue that will likely shape bilateral relations, according to author Richard McGregor.
Thanh Hao

Mr. Duong Khiet Tri spoke about US-China relations
Chinese Communist Party Politburo member Yang Jiechi has called for closer ties with the US under President Joe Biden, and asked Washington to respect Beijing's position.

The reason why Trump's trade war with China failed
US President Joe Biden has an opportunity to learn from previous mistakes with Beijing and forge a better policy.