Mr. Nguyen Van Trung, 54 years old, (Bien Hoa City, Dong Nai) is a good fish farmer, having won the title of "Good Farmer" for many years. After many years of favorable fish farming, Mr. Trung has amassed a sum of money to retire and fulfill his wish to travel across Vietnam.
At the beginning of 2020, right after the first Covid-19 epidemic in Vietnam was under control, Mr. Trung brought his 2009 Honda for repair to start his journey across Vietnam. The only things he brought with him were a few sets of clothes, car repair tools and some common cold medicine.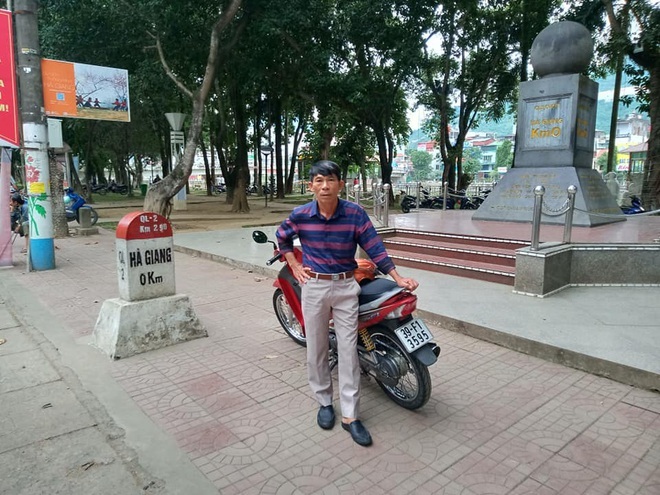 Mr. Trung next to the car is more than 10 years old going around.
Starting from Bien Hoa city (Dong Nai), he went straight to Da Lat (Lam Dong) and then stopped. In the following days, he crossed Khanh Le pass to Nha Trang (Khanh Hoa), Tuy Hoa (Phu Yen), Quy Nhon (Binh Dinh). Then he chose Truong Son road to go to Quang Binh, Thanh Hoa, Hoa Binh… After 3 trips, Mr. Trung had the last trip across Vietnam in March – April 2021.
Every time he goes, he chooses different routes to be able to go to all tourist destinations as well as provinces and cities in Vietnam. Due to the complicated developments of the Covid-19 epidemic, not all of his trips were favorable.
On his fourth trip, when he went to Quang Ngai, the epidemic broke out in Da Nang. He had to take another road to Hue, but because the road was difficult to go, he got lost and had to sleep in the forest. It was not until the next morning that he asked the support of the natives to go to the main road. Concerned about the epidemic, he decided to return to Quang Ngai to visit Ly Son island, then ended the trip and returned home.
In order for each trip to go smoothly, Mr. Trung always prepares well in terms of psychology, health and it is important to calmly handle cases that occur along the way.
Because he worked as a farmer before, Mr. Trung was too familiar with the wind and fog. Besides, he also likes swimming and playing football, so he has a very good physical background at the age of U60.
Of course, during his trips, he also had a car breakdown or lost his way a few times, but he handled the incident well. What makes this "moving" farmer remember the most is the cold weather of the North. There was a time when he caught a cold on the way, but thanks to good health, he only took medicine and it did not affect the trip.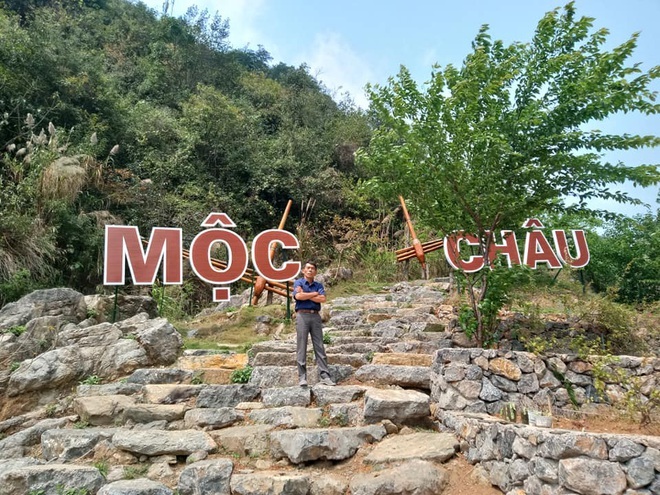 Moc Chau, Son La is one of the places where Mr. Trung has set foot.
The old farmer said that every day he moves from 200 to 400 km, depending on whether each locality has a tourist destination or not. During the day on the way, he often stops at scenic spots to visit and learn about the outstanding places of each province.
In the evening, he looked for a place to stay, usually popular motels costing about 200-300 thousand VND / night, opened the map on the phone to research for the next day's route. In addition, wherever he went, he took advantage of the local specialties there.
Trung's trip is usually wrapped up within a month and costs about 15-20 million VND. The old farmer said that the cost was not too important on his trip, because before he left, he planned to budget so that the trip was safe, meaningful and not wasted.
Mr. Trung also shared about the reason why every trip is his solo because friends of the same age do not have the same time and passion as him. Going with young people, he was not strong enough to follow.
"Going alone is also very comfortable, you can go wherever you like, if you want to stop, stop. If you go in a crowd, you can't do that, because many people can't decide what you want," said Trung.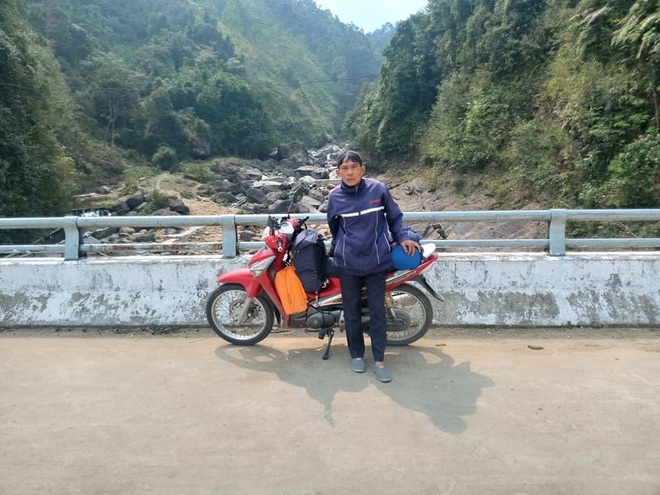 Trung is expected to continue his fifth trip when the epidemic is under control.
Through these trips, Mr. Trung not only got to see the beautiful scenery of the country with his own eyes, but also felt the affection of the indigenous people where he used to go.
"After our country got the pandemic under control, I went on my 5th trip again. This time I plan to go to Mong Cai (Quang Ninh) and then some places I have not been to yet," he said. Trung said.
According to Dan Tri

The father "customizes" his car into a mobile cafe, taking his wife and children to travel everywhere
In order to escape from a confined life due to the Covid-19 epidemic, Mr. Trong converted the truck into a "mobile home", taking his wife and children to both travel and sell coffee.