The joyful laughter of the American horse appeared in a photo that quickly went viral on social networks. Many people commented on this image that made them happier.
When Amanda Eckstein and her partner Phillip Werner (Indiana, USA) celebrated the arrival of their new family member with a photo session, they didn't expect it to turn out to be a day to remember.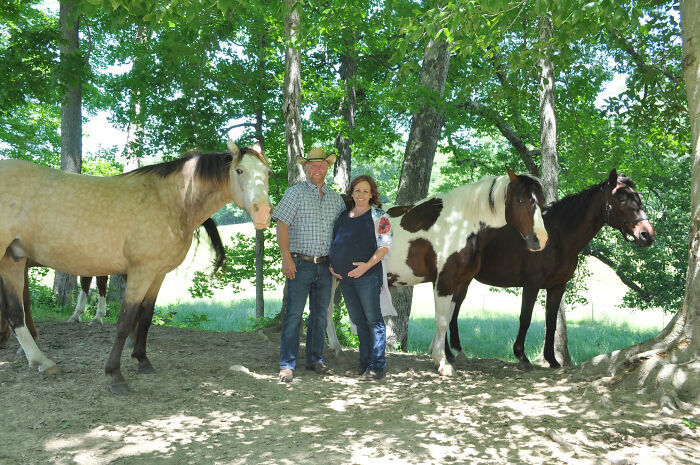 Husband and wife Amanda Eckstein and Phillip Werner pose for a photo with a herd of horses.
The couple are posing for Kristen Zaffiro's camera with their horses, a goofy, feisty horse named Buckshot whose actions have caught the attention of those around them. When photographer Zaffiro asked the horse to smile, it gave a lovely smile.
"Unexpectedly when I told the horse, 'Hey, smile,' it smiled," the photographer shared of her photos in a Facebook post in early June. Gia also added that it was the most impressive maternity photo session ever for her.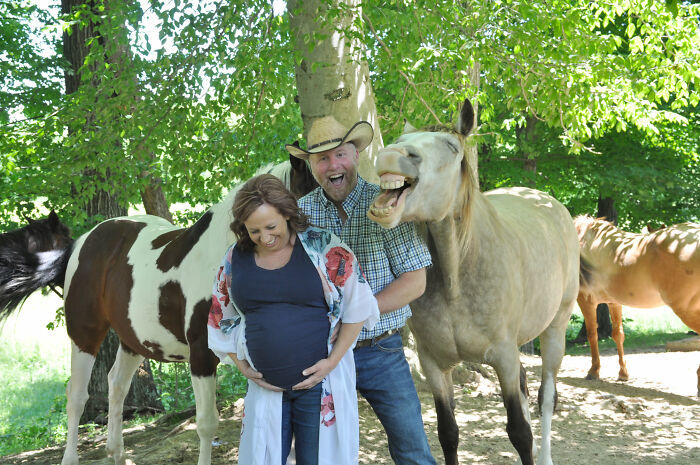 Funny pictures capture the smile of a horse named Buckshot.
The hilarious photos immediately went viral on Facebook with 138 thousand likes, 323 thousand shares and 30 thousand comments. Buckshot's smile is said to "make people's days around the world brighter".
"This photo session was so much fun. I don't usually take pictures with horses, so I didn't even realize they could smile. The photo brought so much joy to everyone, I love it!", shared the photographer.
Buckshot's personality shined throughout the photo session. The Ecksteins also shared, every day, Buckshot always proved to be the funniest and naughtiest horse on their farm. "He regularly does silly things like opening gates and releasing other horses from the stables in the middle of the night," Eckstein said.
Although Buckshot has been praised by his owners for being playful, fun, and affectionate, Eckstein and Werner plan to wait a while before introducing him to their newborn. "It's a bit noisy at times, but it also loves children," said the hostess.
Ngoc Trang (According to Boredpanda)

The photo suddenly attracted attention all over the UK
The image of a pine tree cut in half has attracted the attention of many people after a dispute broke out between neighbors on the outskirts of Sheffield, County Waterthorpe, England.