In order to escape from a confined life due to the Covid-19 epidemic, Mr. Trong converted the truck into a "mobile home", taking his wife and children to both travel and sell coffee.
The father "customizes" his car into a mobile cafe, taking his wife and children to travel everywhere
Due to the complicated development of the Covid-19 epidemic, the coffee shop of Mr. Phung Khac Trong's family (31 years old) in Tan Bien town, Tay Ninh had to be constantly closed or only open for take-out.
At the same time, Mr. Trong's 3-year-old son was in the process of learning to speak, but he could not go to school because of the epidemic, all day he was bored inside the four walls. Realizing that life needs a change, from February 2021, Mr. Trong embarked on making a mobile vending vehicle combined with taking his wife and children to experience travel.
After researching many different types of vehicles, Mr. Trong chose a Kia K200 batwing truck with a rolling price of about 425 million VND. After buying, he bought more iron and wood for about 10 million VND to make compartments in the trunk. He invested in a generator system to provide electricity for the whole car, costing about 18 million VND.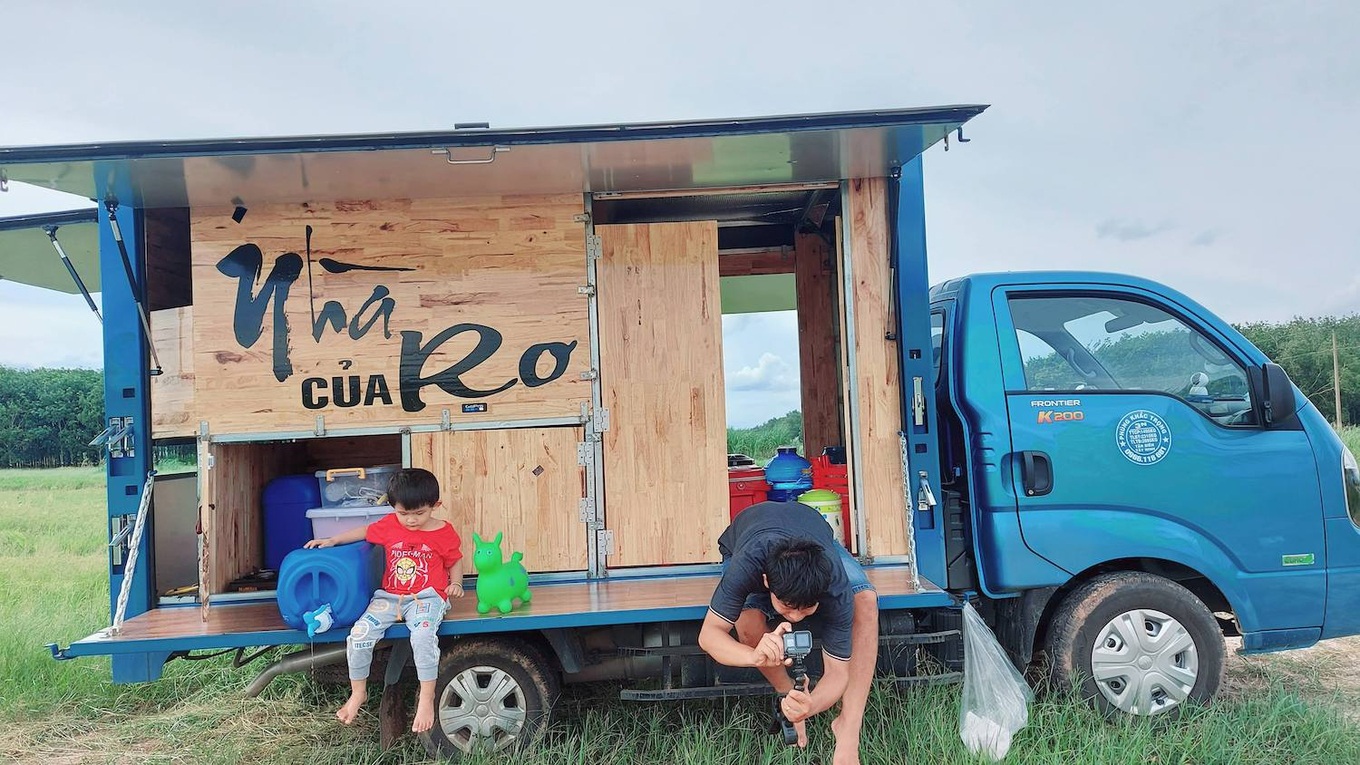 About the idea of ​​​​designing the car, Trong consulted on the Internet and YouTube, then made 3D drawings and aligned them to suit the needs and purposes. In accordance with the registration law, Mr. Trong did not weld or screw directly on the body of the vehicle, but made an iron frame to fix the furniture in the rear compartment.
The car was completed after about a month of construction, with a sales counter at the bottom, a small room of about 5m2 above for furniture and beds for the family when needed. The car combines business travel, so there is no kitchen or bathroom, he will bring a camping toilet tent to use.
After the car was completed, Mr. Trong's family went to nearby places such as Ma Thien Lanh valley, Kenh Tay … to get used to the "nomadic" life. Trong's family can fish and grill food when they stop and his son can comfortably experience nature.
Previously, Mr. Trong loved to travel, but since he has a small child, the preparation is very time-consuming. After completing the "mobile home", he can take his wife and children anywhere if he has time without worrying about where to eat and sleep like before. More specifically, after the trip, his young son became more active, happy, interested in learning everything more than before.
According to Mr. Trong's plan, after the Covid-19 epidemic is under control, he will register a mobile coffee shop near tourist attractions or combine sales on the way to travel around the country.
According to Dan Tri

3 old women 'travel' 60km by bicycle to see the longest bridge in the North Central region
Together cycling more than 60km to see firsthand the iconic bridge connecting the two provinces of Nghe An and Ha Tinh, 3 old women from Yen Thanh impressed many people by their "playable" spirit.