From the beginning of this year until the end of April, the number of daily new infections in both Singapore and Taiwan was almost zero or only one digit. However, just last week, Singapore recorded 248 more positive cases of SARS-CoV-2, and Taiwan had up to 1,200 new cases in the community, forcing the authorities to tighten restrictions and close school door.
Compared to many epidemic "hot spots" in the world, the above numbers are relatively small. But for Singapore and Taiwan, they were unthinkable just a few months ago. So what is the reason that Asia's two anti-Covid-19 models re-emerge?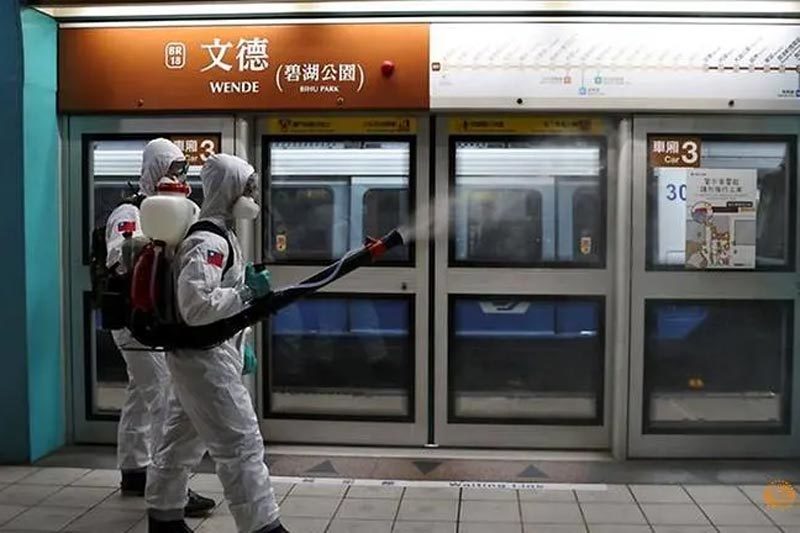 Soldiers wearing protective gear are spraying disinfectant at a subway station after the number of Covid-19 cases spiked in Taipei, Taiwan. Photo: Reuters
Taiwan
According to the BBC, Taiwan was one of the first places to "ban" foreign visitors right after mainland China announced the discovery of a virus causing a mysterious pneumonia. These tough border controls remain in place for now.
However, the government and the inhabitants of the island began to let their guard down. Associate professor Lin Hsien-ho of Taiwan University said that local hospitals have stopped conducting Covid-19 tests for people with fever, a common symptom of infection with the new strain of corona virus.
According to data from the online statistics site Our World in Data, on average, Taiwan was conducting 0.57 tests for every 1,000 people in mid-February. While, this rate was during the same period in Singapore. is 6.21 and in the UK it is 8.68.
"Doctors no longer take the epidemic seriously. Hospitals let their guard down and didn't conduct much contact tracing. There was certainly a sense of complacency in the community," said Dr. Lin. The fact stems from the widespread belief that the virus cannot penetrate Taiwan's tight border fences, the scholar added.
The problem became serious when the local government relaxed the isolation requirement for unvaccinated pilots from the original 14 days to 5 days and finally to 3 days.
Soon after, a cluster of infections appeared, involving a small number of China Airlines pilots who were staying at the Novotel hotel near Taoyuan airport. Many of the cases in this cluster were found to have variant B.1.1.7 of British origin.
The virus then spread in the community and eventually infiltrated "tea shops", adult entertainment venues in Taiwan. "People were singing, drinking, in constant contact in a closed environment. It was not just one but many tea shops on the same street, a very large-scale superinfection incident," Dr. Lin described. .
Epidemiologist Chen Chien-jen added that the fact that many people who tested positive were unwilling to report that they had been to such adult entertainment venues made contact tracing work even harder. more difficult. "It reminds us that, even if a very small percentage of the population breaks the rules, it can lead to disaster," explains Professor Chen.
According to Chen, Taiwan has not learned a lesson from the adult entertainment industry in Japan, which was also a "hot spot" for infections before it was forced to suspend operations.
Associate Professor Alex Cook of the National University of Singapore (NUS) said that Taiwan's situation reflects the danger of a strategy that places too much emphasis on border control but not enough on containment measures. pathogens spread within the territory.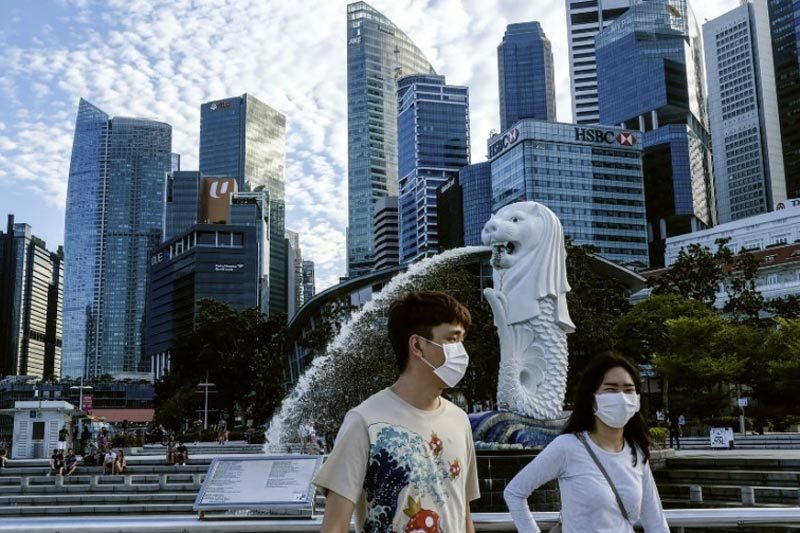 Singapore decided to re-impose strict restrictive measures, similar to a blockade like a year ago from May 16 to June 13 to cope with the worrying epidemic. Photo: AP
Singapore
In Singapore it's a different story. Covid-19 prevention measures here are always strict despite the low number of cases. People are not allowed to gather more than 8 people in public places. Clubs have not been allowed to reopen, and authorities still impose restrictions on large gatherings such as weddings.
However, there are still gaps in the national vaccination program. By the end of April, Changi Airport, which owns a popular shopping mall, had turned into the country's largest outbreak this year.
Authorities discovered that a large number of airport staff who tested positive for SARS-CoV-2 worked in an area that specializes in receiving people entering from high-risk countries, including some countries. South Asia. Some of these employees then continued to dine at the airport's food courts, which are open to the public, allowing the virus to continue to spread. Therefore, Singapore is now temporarily closing the terminals in Changi to non-airline passengers.
Many cases were later found to have contracted B.1.617, a highly contagious variant that first appeared in India.
Singapore has also now announced it will separate flights and passengers arriving from high-risk countries and regions from flights and passengers arriving from lower-risk areas. Airport staff also have to work regionally.
Some questioned why such measures were not implemented sooner when potential vulnerabilities were pointed out a month earlier. However, Professor Teo Yik Ying, dean of the NUS School of Public Health, believes that the new variant entering the lion island nation is "inevitable".
"I understand why people are frustrated because most Singaporeans have strictly followed the rules. But we're not like China, which can shut down completely. Our country, economy is associated with the reputation, the position of a commercial center. If you look at the US last year, the most severe cases did not come from China, but from people entering from Europe. Can Singapore close its borders with how many countries?", Mr. Ying expressed.
Meanwhile, Professor Cook believes, Singapore is still in a "very good position" to control the disease. According to this scholar, if compared with the UK, the number of daily new infections in Singapore is only approximately 10% of the UK level after adjusting for differences in population size. The lion island nation is just tightening preventive measures to avoid falling into a situation of "breakdown".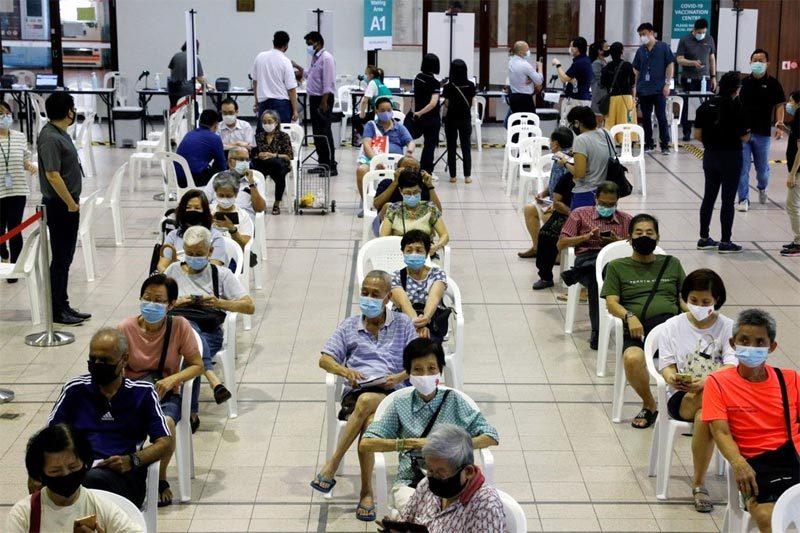 Elderly people wait to be vaccinated against Covid-19 at a vaccination center in Singapore. Photo: Reuters
Slow vaccination process
According to the BBC, both Singapore and Taiwan face a headache over Covid-19 vaccinations.
Many people in Taiwan don't want to get vaccinated when things are going well. Concerns around the preparation of AstraZeneca, the main vaccine that the island is stockpiling, add to this hesitation.
However, the spike in cases has caused people in Taiwan to rush to get vaccinated. The trouble is that the authorities currently don't have enough vaccines to give people. So far, this territory of 24 million people has received only 300,000 doses of the vaccine.
Professor Chen said that local authorities have tried to buy vaccines from international companies but have not been successful. For them, the only solution to maintain the supply is to self-produce. Taiwan is taking the necessary steps to produce two homemade vaccines, which are expected to reach consumers as quickly as possible by the end of July.
The same thing happened in Singapore. About 30% of people here have been vaccinated with at least one dose of vaccine, the highest rate of Covid-19 vaccination in Southeast Asia, according to statistics of Our World in Data. However, the country is facing supply difficulties even though the government aims to vaccinate the entire population by the end of the year.
Professor Teo said that the demand for vaccines will be long-term and Singapore needs to quickly produce its own vaccines like the UK, US or China to not have to depend on supply. He noted that the sharp resurgence in both Singapore and Taiwan is a lesson for countries and territories that may be seeing a decline in cases.
"When I see countries in Europe or the US starting to relax their Covid-19 prevention measures, I think they should be very cautious and look to the world to see what is going on. What happened in Taiwan, Singapore is a sign that we should not let our guard down," Teo stressed.
Tuan Anh

Covid-19 'tsunami' sweeps India
India is experiencing its worst outbreak ever. Join Vietnamnet to read the latest images and news from the Covid-19 epidemic center in India

Taiwan mobilizes overseas representatives to seek Covid-19 vaccine
Taiwan is mobilizing officials abroad to get a Covid-19 vaccine faster as the number of infections soars.

Covid-19 cases skyrocketed in Singapore
Singapore has just recorded the number of new Covid-19 infections in the community increasing to a record level in more than a year.