While many young people often like to go travel With friends and lovers, Cao Tan Anh (born in 1992, working in Ho Chi Minh City) is passionate about traveling with his mother. Tan Anh and his mother have traveled to many provinces and cities of Vietnam, to other countries such as Korea and Thailand.
"Before the Covid-19 epidemic, every one or two months, I arranged my time, planned and took my mother to travel. Mother and daughter lived far apart and my work was too busy, so each trip was an opportunity. opportunity for me to spend time alone with my mother", Tan Anh shared.
During the complicated outbreak of Covid-19, many travel plans of Tan Anh and her mother – Mrs. Nguyen Thi Thuy Phuong (Ba Ria Vung Tau) had to be delayed. Until the 2022 Lunar New Year, Tan Anh "aims" Phu Quoc (Kien Giang) as the first destination after the epidemic for mother and daughter. At the end of April 2022, when the 3rd vaccine was completed, the mother and daughter Tan Anh left.
"Me and Phuong's mother have been to Phu Quoc many times, so this time, I took the time to design a new trip, more suitable for my mother's taste. My mother likes to travel and relax, likes to see beautiful spots, loves fashion. and food", Tan Anh shared.
"Everything Tan Anh is arranged, I just have to be happy to go," said Mrs. Phuong happily.
After 5 days and 4 nights in Phu Quoc, Tan Anh and her mother have an extremely impressive photo album, making many young people want to pick up their suitcases and take their parents on a trip right away. The boy psychologically designed a travel schedule that is both interesting and novel and suitable for the health and interests of his mother.
Phu Quoc tour 5 days 4 nights
Day 1: Fly to Phu Quoc – Check in hotel – Massage – Night Market
Tan Anh chooses a flight at about 9am to just arrive at the hotel for lunch and check in. In the afternoon, he enlisted to work online while Mrs. Phuong rested in the waiting room for her children.
"After finishing work, I took my mother to the massage area at the resort so that she could be beautified and taken care of her health. In the evening, mother and daughter wandered around at the Phu Quoc night market not far away, enjoying dishes such as Kien Xay noodle soup", Tan Anh shared.
In the afternoon of the first day in Phu Quoc, Tan Anh took his mother to massage and take care of her health
In the evening, mother and daughter go to Phu Quoc night market, enjoy street specialties here
Day 2: Experience the deserted island
Having been to Phu Quoc many times on tours, Tan Anh no longer likes the familiar schedules, crowded destinations. On this trip, the young man persuaded his mother to spend a day following the local fishermen to the "wild island" in Gam Ghi island. This island has not been exploited for tourism, has no restaurants, accommodation spots, completely wild. This is the place where fishermen come to fish, relax…
"Before the trip, I found the phone number of a local fisherman. They agreed to take their mother and daughter to the island and lend them umbrellas and tarpaulins…", Tan Anh shared.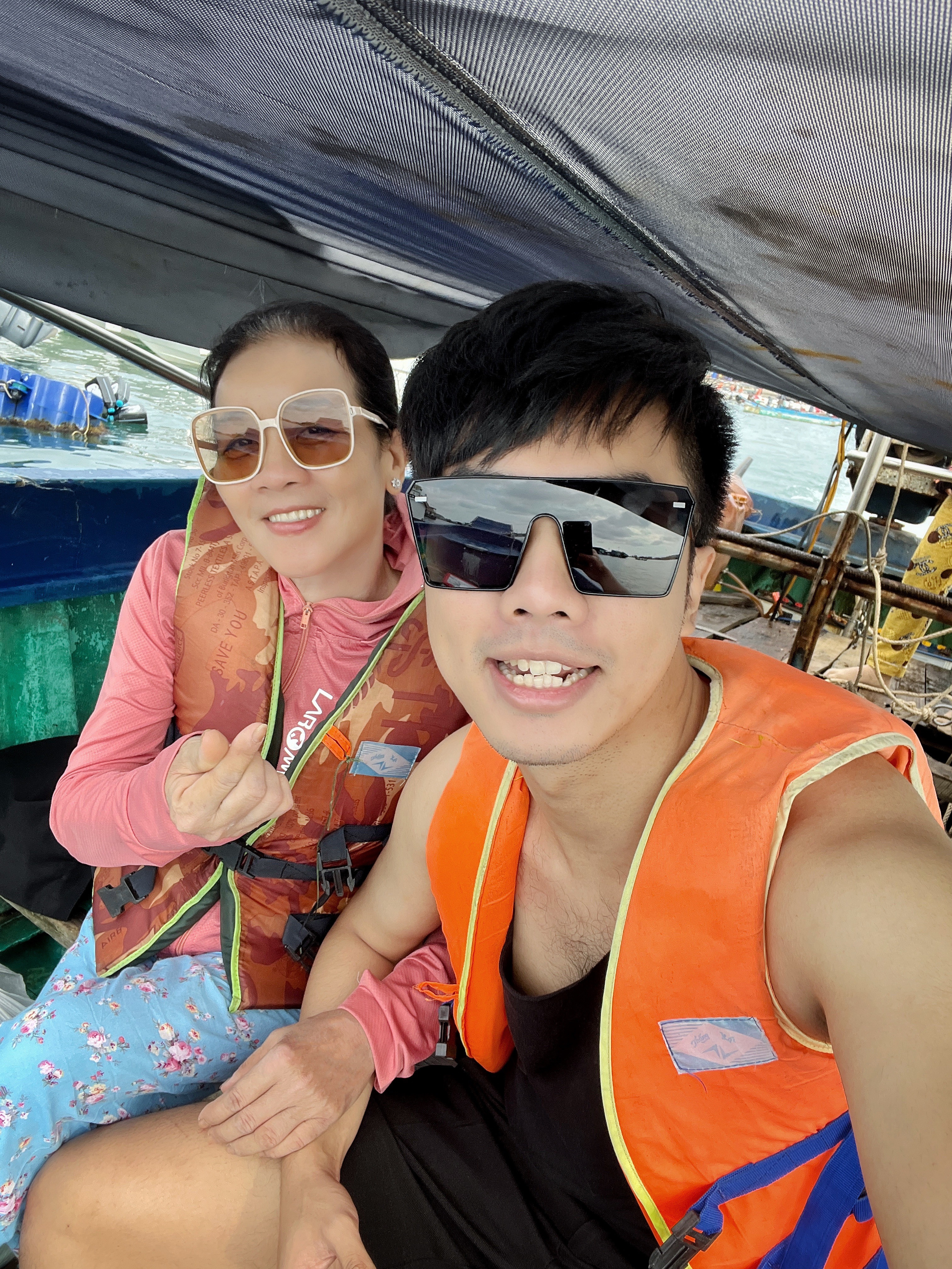 "My mother showed off her talent for making a fire and then we both grilled squid and fish by ourselves. The seafood is fresh, so even if it's simply grilled, it still has a very delicious taste," Tan Anh shared
"This island is really wild. This place has no tourists, so my mother and I are extremely comfortable. Before the trip, I was also a little worried because I was afraid to go out there alone, lacking, without a guide… but because my son likes swimming, diving, and having fun, I indulged him," said Mrs. Phuong. "I didn't expect that going to such an experience would be fun and interesting," she said.
"My mother didn't like traveling to experience wildlife like this, but I convinced her to give it a try. This is also an opportunity for my mother to understand our youth's interests," Tan Anh shared. "I really stay away from the phone and spend time talking to my mother about everything," the young man added.
Around 4 pm, the fisherman drove the boat back to pick up the mother and daughter Tan Anh. This is also the time when the beautiful sunset makes Mrs. Phuong very fond of it.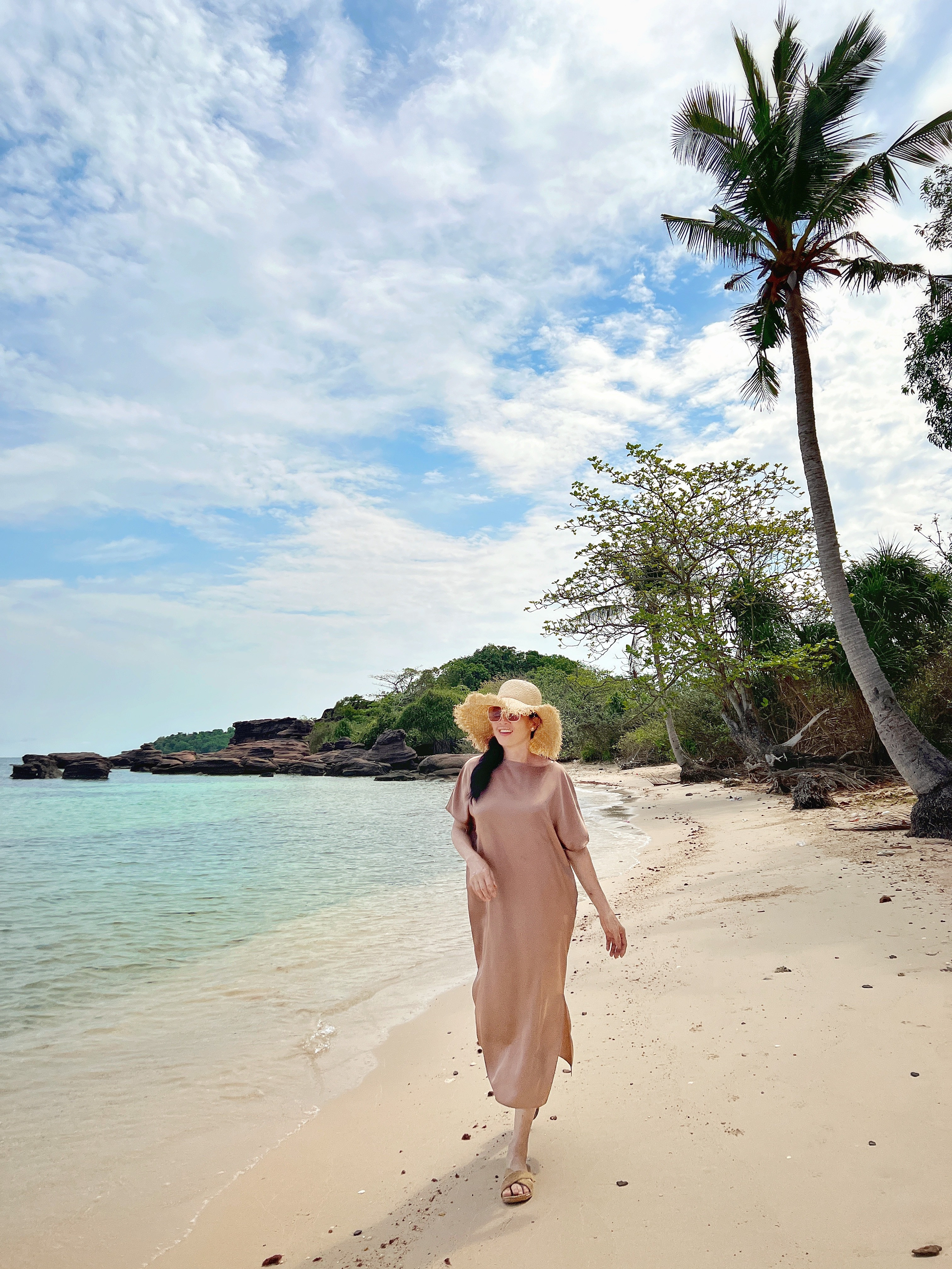 Day 3: Visit the resort – Ham Ninh fishing village – Ham Rong Cape, Rach Vem
After moving quite far on the second day, on the third day, Tan Anh and his mother spent the morning visiting and taking pictures in the resort where the mother and daughter stayed. The 30-year-old became his mother's personal photographer and stylist. "My mother loves taking pictures and wearing beautiful clothes. Before the trip, I myself had to find and choose for my mother a lot of clothes," Tan Anh shared.
His mother and son brought 35kg of luggage to Phu Quoc. Every day, Mrs. Phuong can change 3-4 outfits to check-in with different beautiful scenes. "Tan Anh understands her mother's intentions very well, so she chooses whatever clothes she likes. Mother and daughter wear a lot of matching clothes. My child's concern makes me happy," Phuong shared.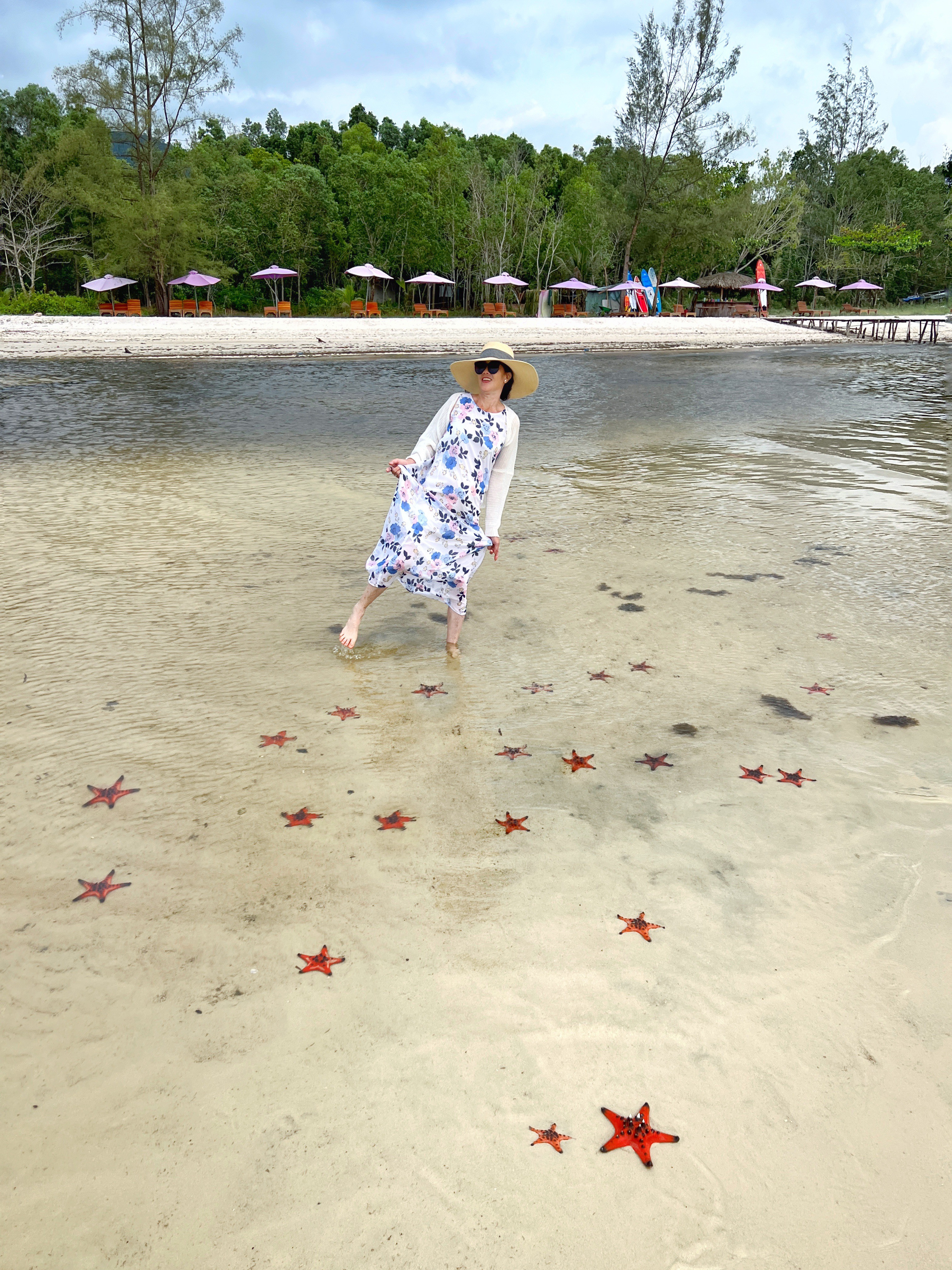 "My mother is also very young, so in the late afternoon, mother and daughter went to restaurants that are famous for young people like Mango Bay resort, On The Rock Restaurant …", Tan Anh shared.
Day 4: Visit the complex of amusement parks and animal sanctuaries on the island
On the fourth day, Tan Anh and his mother visited the animal sanctuary on the island. He chose for his mother a "ranger" outfit that was extremely suitable for the context.
"Many conservation area staff were surprised by the outfit that was quite similar to their uniform. Some tourists asked me where I bought the costume, but it looked so young and interesting," said Ms. Phuong.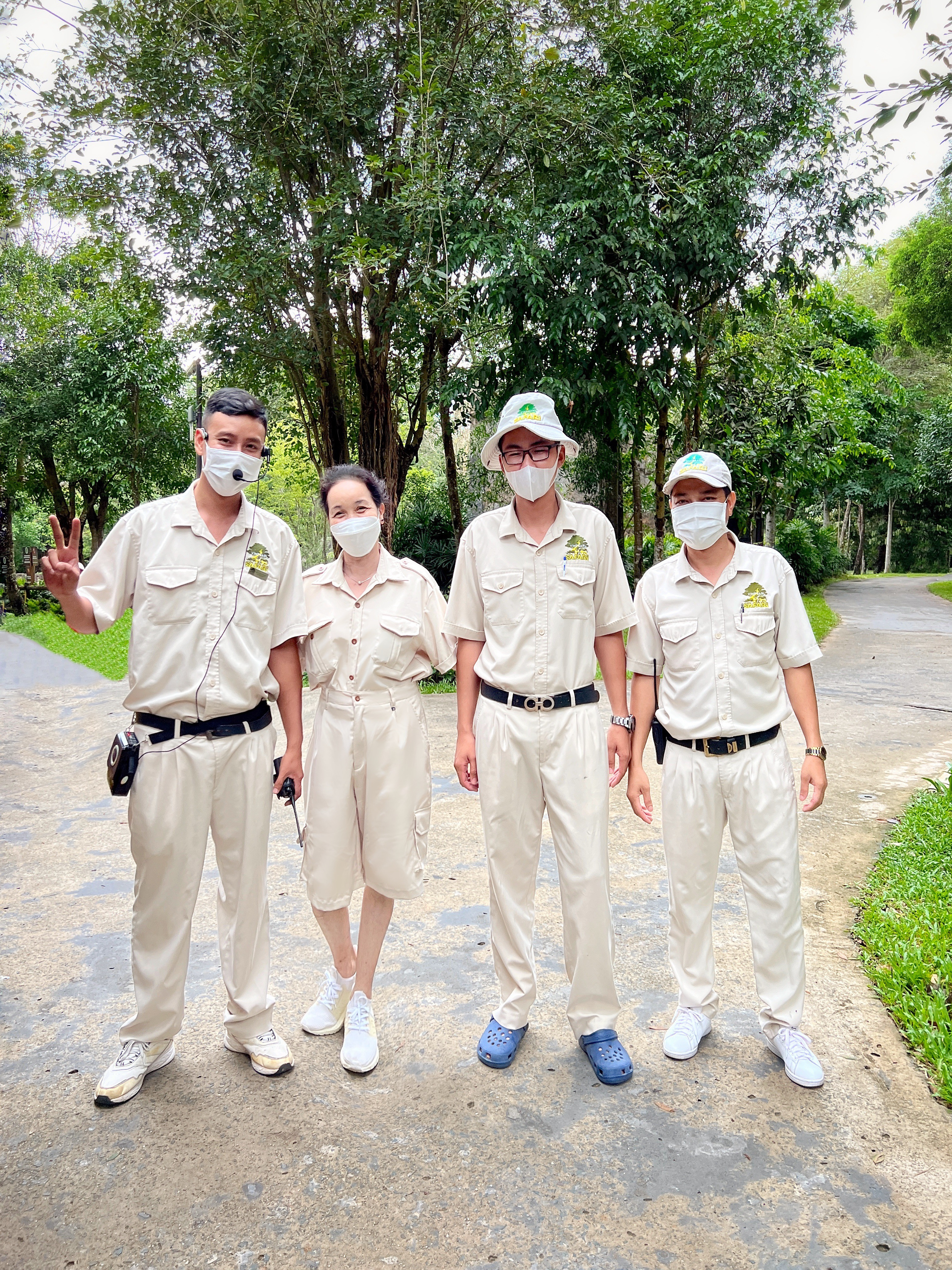 Before leaving, Tan Anh previewed the schedule of performances in each area to make it easier to take the initiative in time. He also avoids the reptile areas that his mother is afraid of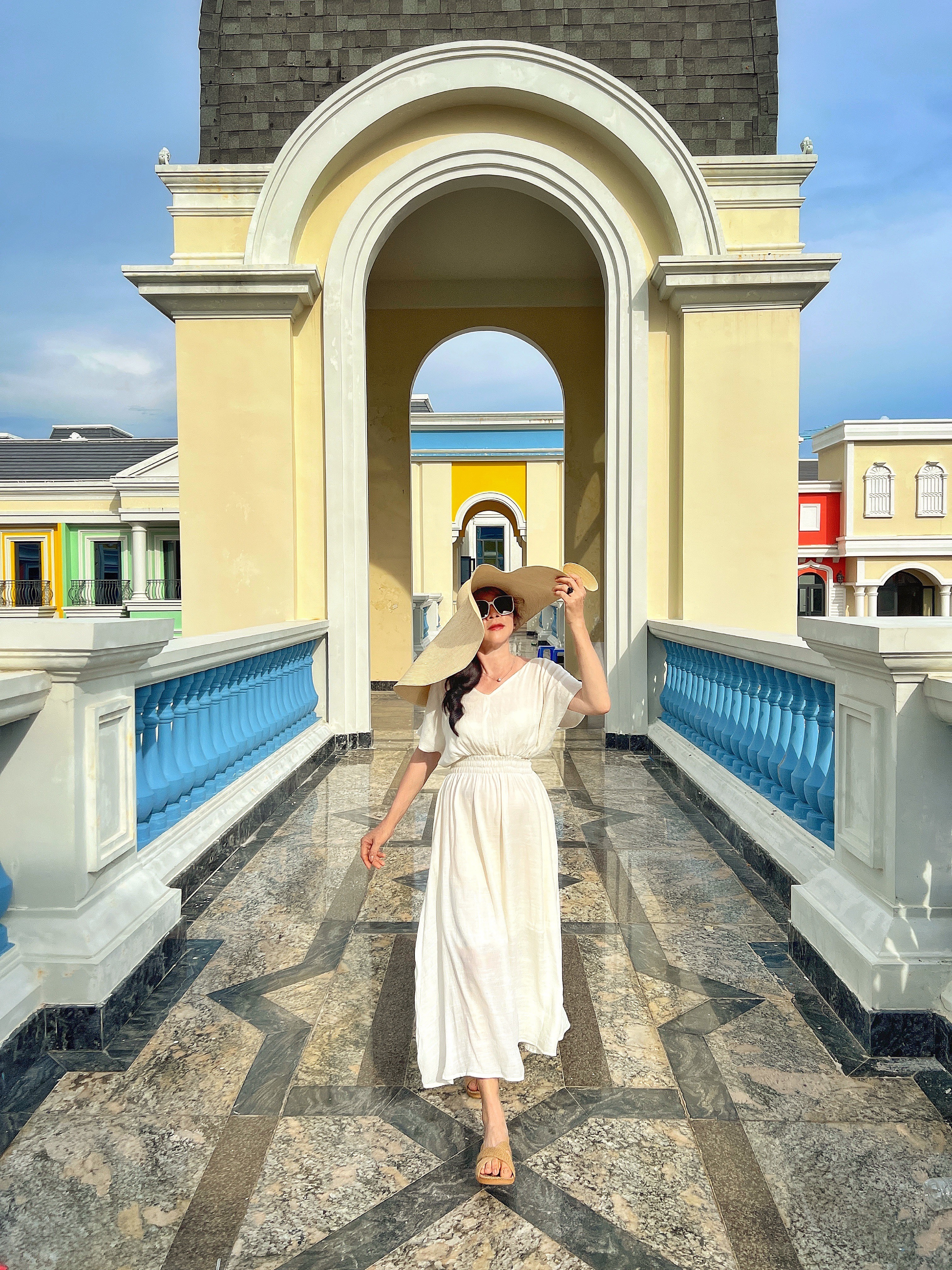 Day 5: Working in combination with sightseeing at the famous resort of Phu Quoc
On Thursday, Tan Anh has a schedule to work with a partner at a famous resort in Phu Quoc. He took his mother to visit while he met his partner.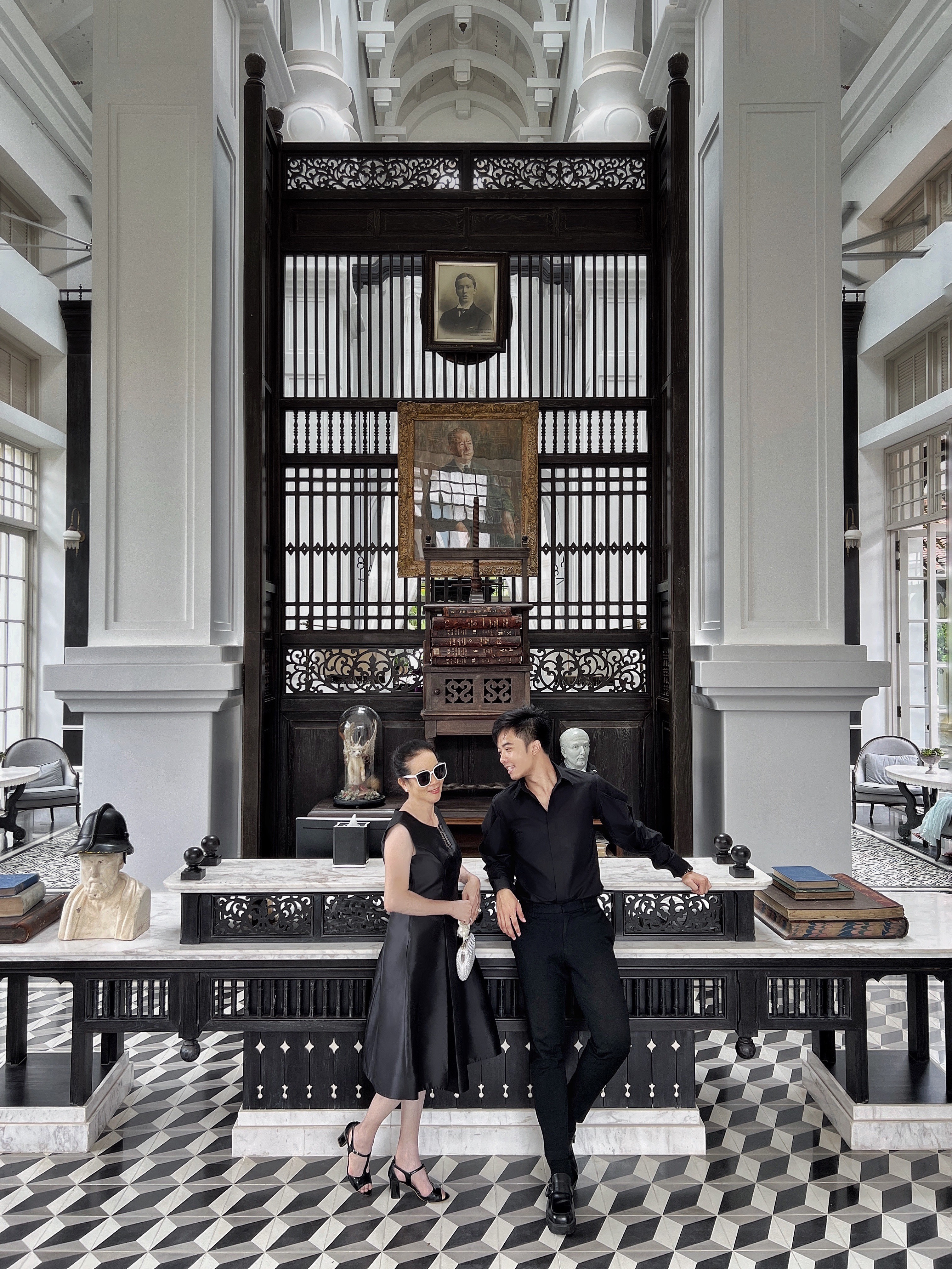 The boy chooses up to 3 outfits for his mother to take pictures of
In the afternoon, mother and daughter had a snack of bread – Mrs. Phuong's favorite dish, and then boarded the plane to Ho Chi Minh City.
"Thank you mom for believing in me!"
Tan Anh shared, due to busy work, even when taking his mother to travel, he still has to work. "Looking at the photos I shared, many of you think this is a luxury and high-class resort, but it is not. I combine work and travel. There are many times when I have to sit with coffee and eat bread while waiting for my children to work. My mother was not angry, but even sympathized with me," Tan Anh shared.
According to him, mother is the best companion on trips. "For my mother, my concern makes her happy. For me, my mother's trust makes me more motivated," the young man shared.
Tan Anh said, the total cost of the trip of the mother and daughter is only about 15 million VND. "The cost is not too high because my mother eats very simply, preferring rustic dishes instead of luxury restaurants. In the near future, mother and daughter will have more trips to "revenge" the Covid-19 epidemic. I want to have a lot of wonderful moments with my mother", he said.
Linh Trang (Photo: NVCC)