US Secretary of State Antony Blinken and national security adviser Jake Sullivan will sit down with China's top foreign policy official, Yang Jiechi, and Foreign Minister Wang Yi next Thursday in Anchorage, according to the Washington Post.
This is the Biden administration's first meeting with the Chinese side, which will likely shape the foreign policy legacy of the 46th President of the United States.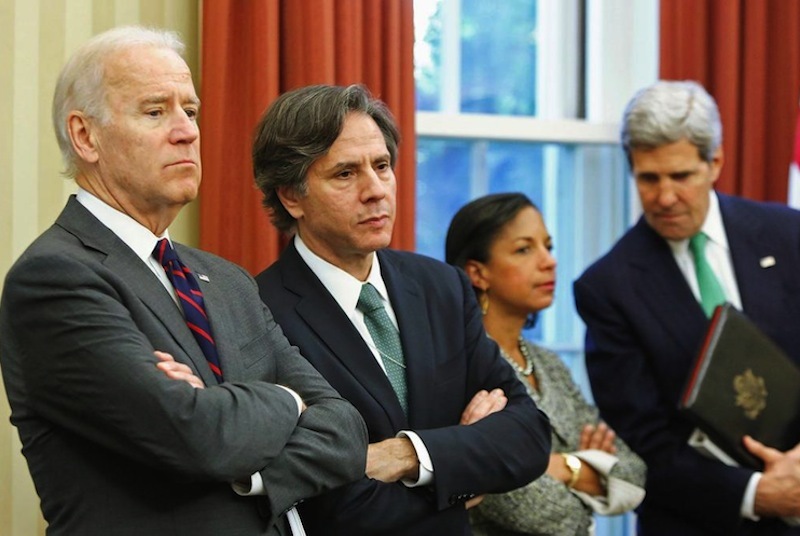 US President Joe Biden and Secretary of State Antony Blinken. Photo: Reuters
Speaking before the US House Foreign Affairs Committee on March 10, Secretary of State Blinken said: "This is an important opportunity for us to speak candidly about many of our concerns. We will also find out if are there any avenues of cooperation and we will discuss the competition we have with China, to make sure America has a level playing field and our companies and workers benefit from that".
However, concerns abound. And whatever the ambition, when it comes to finding convergence points on a range of thorny issues – from trade and intellectual property rights to cybersecurity and climate, the Biden administration still has to face Beijing. not only as a geopolitical rival but also as an ideological opponent.
Before the meeting in Anchorage, the Biden administration had made several efforts to reach out to Asian allies that are also wary of China's rise. On March 12, Mr. Biden will meet online with the leaders of the "Quad" (USA, Japan, India and Australia).
Before heading to Alaska, Blinken will have meetings in Japan and South Korea, where Defense Secretary Lloyd Austin will also be present, who is scheduled to visit India separately.
Not much was expected of the meetings in Alaska. "This is not a strategic dialogue. There is no intention at this time for further engagements," Blinken said. "Those commitments, if they want to stick to them, really have to be based on the confirmation that we're seeing tangible progress and tangible results on the issues that we care about with China."
Matthew Pottinger, a senior policy adviser on China at the White House to former President Donald Trump, said that the meeting "simply set the terms of a future engagement".
At a press conference on March 11, Chinese Foreign Ministry spokesman Zhao Lijian made specific arguments showing that Beijing also did not expect much from the negotiations.
"We ask the US to view China and Sino-US relations objectively and rationally, discard the Cold War and zero-sum game mentality, and respect the sovereignty, security and interests of the United States." development interests of China, and at the same time stop meddling in China's internal affairs," stressed Mr.
For all their political differences, the former Trump administration and the Biden administration today seem to share the same analysis of China.
This week, Secretary of State Blinken confirmed the White House plans to hold a "summit of democracies" later in the year.
"The ideological dimension of the competition with China is inevitable. And it may be central," said Pottinger.
But there have also been strong policy responses from Biden.
After passing a $1.9 trillion domestic stimulus package, lawmakers are working on a law aimed at countering China's economic influence. While details are still unclear, the legislation would likely propose "funding to strengthen US manufacturing and supply chains and many other measures," the Washington Post quoted several experts, and said. know will receive at least a degree of bipartisan support.
According to this newspaper, the law represents an important change in the strategic thinking of the US.
"American leaders have long believed in the private market rather than the federal government to determine the winners and losers of the economy, away from the industrial policy prevalent in France, Japan and many other countries. ", commented commentator Greg Ip of The Wall Street Journal. "Not anymore. President Biden and both parties in Congress have embarked on industrial policy, in which semiconductors are a key test point."
Thanh Hao

Singapore PM fears 'big risk' from US-China tensions
Singapore's Prime Minister said that a clash between the US and China is more likely now than it was five years ago, and warned of "great risks" of increasing tensions between the two powers.

Biden sends secretary of state for first dialogue with China in Alaska
Secretary of State Antony Blinken and National Security Adviser Jake Sullivan will hold the first dialogue of the Joe Biden era with Chinese officials in Alaska next week, the State Department announced.