A white ram with five horns on its head attracts special attention at the Lagos market in Nigeria.

The sheep with 5 horns attracts attention
The festival of Eid al-Adha is celebrated by Muslims all over the world to honor and commemorate the Prophet Abraham's willingness to sacrifice his son Ishmael as an act of loyalty to God.
On the occasion of the Feast of Sacrifice, Muslims often gather in mosques or public places to pray and perform ritual sacrifices of animals such as goats, sheep, cows… Eid al-Adha Festival This year takes place from July 19-23.
Busy people buying animals for the Eid al-Adha festival were surprised to see a prominent five-horned sheep in a market in Nigeria's largest city, Lagos.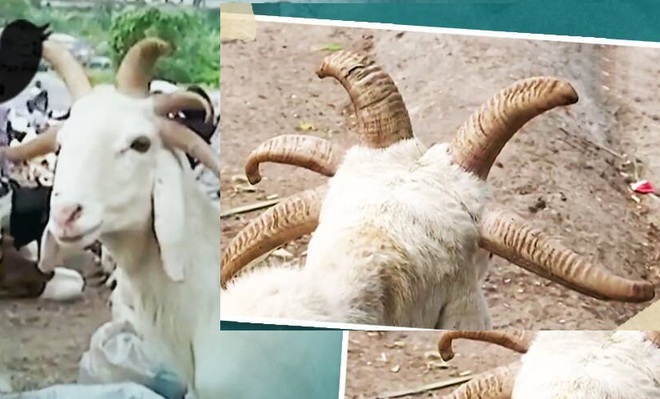 A sheep with 5 horns from Nigeria.
Cattle sacrifice became a major part of the Eid al-Adha rituals. It is from this custom of cattle sacrifice that the celebration is more commonly known as Bakrid.
To continue this tradition, Muslims often hold a large feast with their friends and family, and cattle trading takes place on this occasion.
When seeing a beautiful sheep with 5 horns in the market in Lagos, Nigerians were very excited and flocked to see a lot of people.
A customer present at the market said: "I have never seen such a sheep before, even during the festival period. This is the first time I have seen a ram with 5 horns. It's a good thing it appeared at a time when we were celebrating the festival."
According to Latest/ Dan Tri
Goat born with 8 legs
A mother goat in India gave birth to a baby goat with eight legs and two hips. Many people flocked to the goat farmer's house to see this eight-legged goat with their own eyes.