There was a time when some poor countries thought they would escape the worst of the pandemic – thanks to population density, demographics or climate. But the reality is not so.
In terms of "excessive deaths" – a measure of the number of people who die from any cause in a given period compared to historical averages, poor countries are often worse off than the rest of the world. rich country.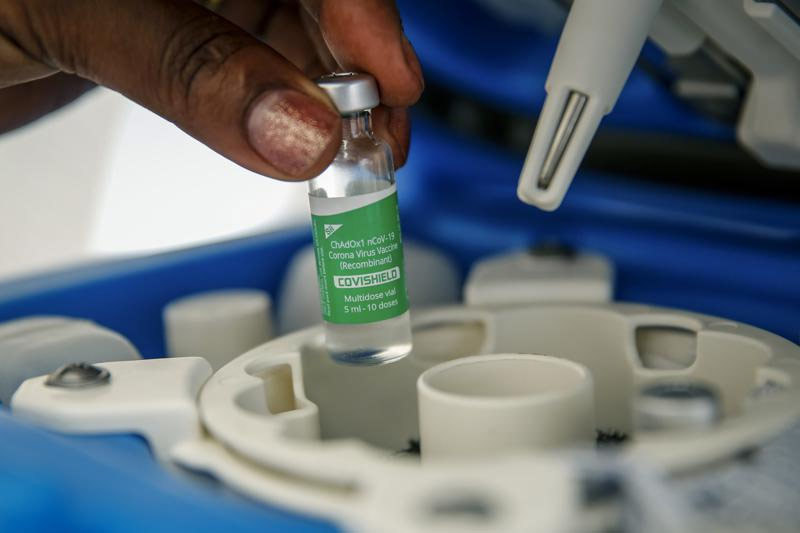 Photo: AP
Meanwhile, Covid-19 vaccination efforts in many poorer parts of the world are facing many obstacles.
According to the Economist magazine, data from Oxford University's Our World in Data project shows that in Africa so far only 1% of people have received at least one dose of the vaccine. In Asia, the figure is 4.4%. In Europe and America, rates reached 22% and 44%, respectively.
According to Airfinity, a London-based analytics company, COVAX – a global vaccine sharing program funded by rich countries mainly in Europe and the US – has so far donated 49 million doses to 120 countries family.
China has distributed 13.4 million doses to 45 different countries, with the largest numbers going to Pakistan, Laos, Cambodia and the Philippines.
India, home to the Serum Institute which is the world's largest vaccine production base, has donated 10.5 million, mainly to Bangladesh, Myanmar, Nepal and Bhutan, equivalent to the 10 million doses that India received. for yourself from COVAX.
Collectively, the world gave away 73.4 million doses, enough to give one shot to 1% of the global population.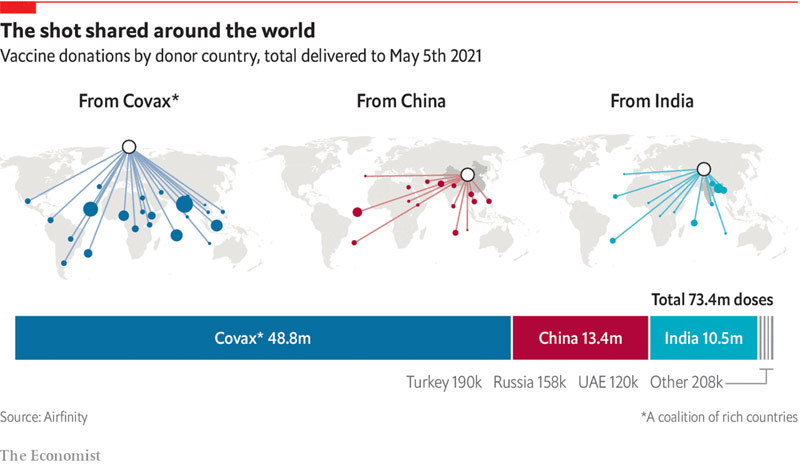 Amount of vaccine donated, distributed as of 5/5
On April 26, the White House announced that the United States would share up to 60 million doses of the AstraZeneca vaccine with the rest of the world, but so far only 10 million of these have been produced. The number will increase but not nearly fast enough to guarantee progress.
By mid-2021, COVAX is expected to have distributed 238 million doses, enough to provide a single injection to 3% of the global population.
Vaccination shortages are currently the biggest problem. Productivity can be unpredictable while scaling production is difficult. The supply of raw materials is also limited. At the same time, countries are trying to ensure the interests of their people first.
If WHO approves more of China's Sinovac vaccine in the coming days, helping to increase the number of vaccines that COVAX can buy, the situation will improve.
On May 3, Moderna said it would provide 34 million doses of the Covid-19 vaccine to COVAX.
Money is another matter. As of April 16, the total amount contributed to COVAX only reached $ 6.6 billion. Former British Prime Minister Gordon Brown has called on rich countries to donate $60 billion to fight the pandemic in poorer countries.
Vaccination of the world's poor is a powerful humanitarian story. But it is also in the interests of the rich countries themselves.
The high number of Covid-19 infections everywhere means that the SARS-CoV-2 virus has a greater chance of mutating, and in the worst case, making vaccinated people still vulnerable to re-infection. So for everyone, rich or poor, it's a scenario that must be avoided at all costs.
How to install Bluezone to help warn people suspected of being infected with Covid-19
Bluezone is an application that helps early warning users if they have unfortunately come into contact with people infected with Covid-19.
To receive alerts from Bluezone, the first thing to do is to download and install this application.
Link to download Bluezone on Android
Link to download Bluezone on iOS
After installation, users need to grant permission for the Bluezone application to access memory and Bluetooth connection to receive alerts from the application.
Thanh Hao

The reason why herd immunity to Covid-19 is still far away
The Economist magazine said that hesitancy in vaccination is hindering the process of achieving herd immunity to the Covid-19 epidemic globally.