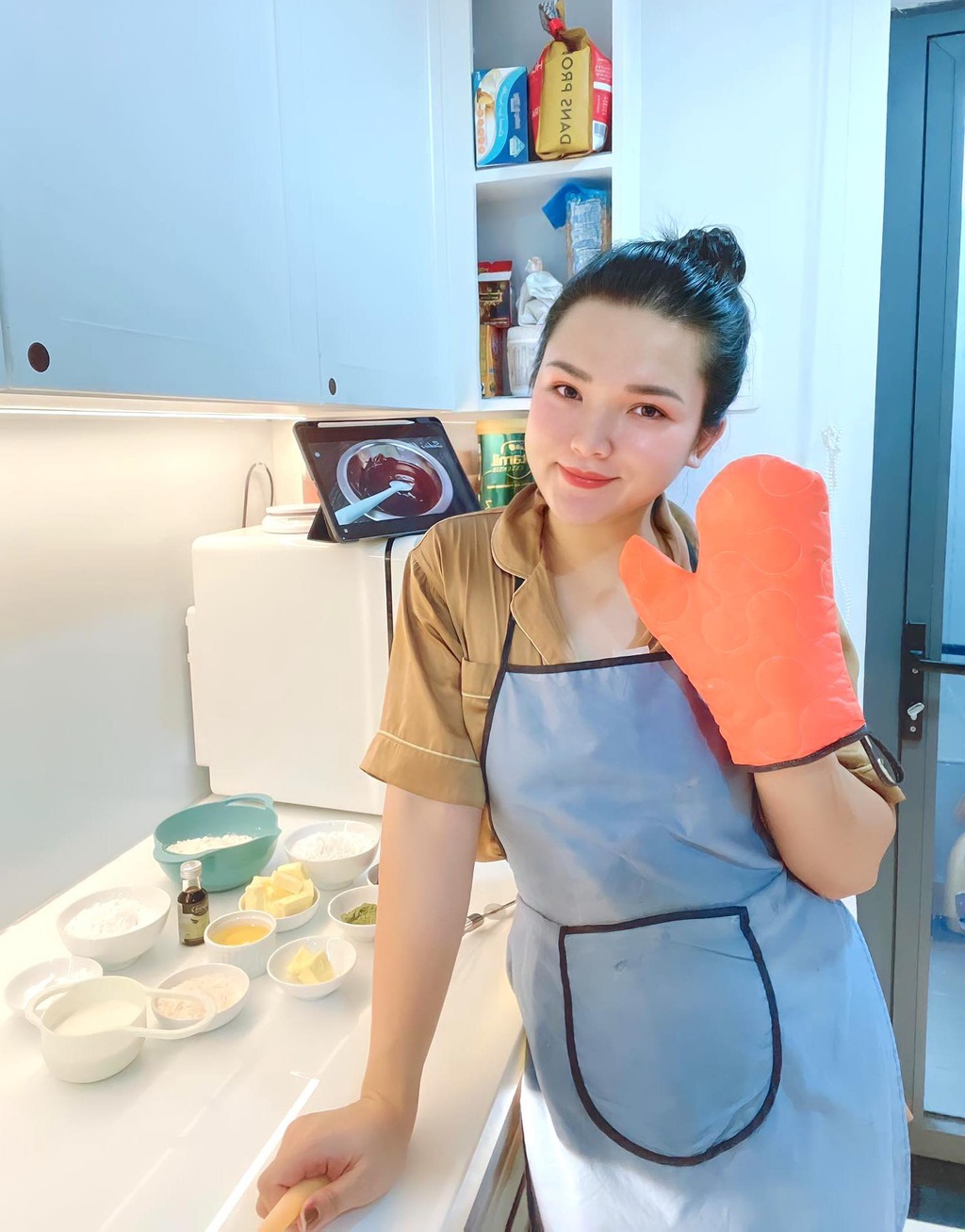 Khanh Linh (SN 1993, District 2, Thu Duc City).
My main job is the assistant bank manager, but the cake profession came as a charm. My family loves to eat cakes, but most of them are elderly members and children, so they rarely buy from outside because sometimes they are afraid of ingredients and ingredients.
Since then, I also have more motivation to cook and bake.
Most of the processing methods I learned by myself, learned from experience, and consulted tutorials on the internet. At the same time, I also took advantage of taking an online course to improve my skills.
After many times showing off my talent and getting a lot of support, I decided to open an online bakery to satisfy my passion.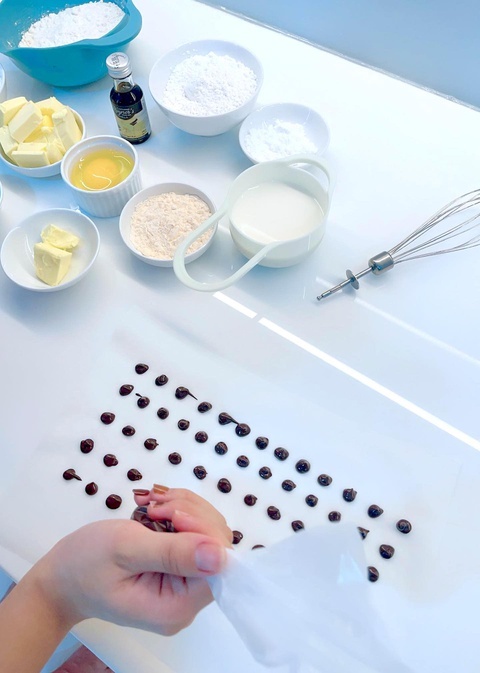 The stage of catching chocolate chips.
Every time I come home from work, I usually make cakes to serve customers the next day. My career is not much, but I always try to be meticulous in each product by using clean, healthy ingredients.
Currently, I mainly make cold cakes like tiramisu, cappuccino cake… In addition, I plan to add eat clean cakes such as organic whole-wheat bread, rye bread, nut cookies.
In the near future, I hope to open a small shop to make it more convenient for people to come and buy cakes.
Before Halloween, I also have more inspiration to make a new cake. Different from the traditional cookie, I tried to make mochi cookies for the whole family.
The cake is baked in a convection oven, when cooled and refrigerated, it will taste more like a chocopie cookie. Dosing in the following recipe gives you 22 cookies. Workers can replace it with diet sugar, which will be suitable for the elderly to sip.
Ingredient
Wrapper:
Flour mixture includes 160 g of flour number 11 (protein 11.5-13%), 1/4 teaspoon salt, 1/2 teaspoon baking powder (baking powder)
113 g unsalted butter
85 g white sugar
A US size chicken egg
A vanilla cap
15 g cocoa powder (single taste) or 8 g matcha and 8 g cocoa (2 flavors)
Chocolate chips of your choice
Cake filling:
70g glutinous rice flour
20g custard cornstarch
15g sugar
140 ml fresh milk without sugar
20 g unsalted butter
Making
Wrapper:
Mix the flour mixture well.
Mix together butter, sugar, eggs, and vanilla.
Sift the flour mixture into the butter, sugar, egg, and vanilla mixture to achieve a certain consistency.
Mix chocolate chips and sprinkle with matcha powder, cocoa color for the crust.
Chill the dough in the refrigerator for 30 minutes to 1 hour.
Cake filling:
Mix all but unsalted butter, stir well and microwave for 1 minute 30 seconds until cooked.
Remove from the oven, mix in unsalted butter, use gloves to knead into a smooth mass to get the mochi filling.
Pairing the shell and core:
Take the chilled dough out of the refrigerator.
Squeeze the dough 20g, squeeze the cake 10g.
Use the crust to wrap the mochi filling.
Decorate with chocolate chips. Do not press the cake too flat as it will still melt while baking.
Bake:
Line with parchment paper, bake in the middle, at 180 degrees Celsius for 9-10 minutes. Then, lower the heat to 165 degrees Celsius and bake for another 4-5 minutes. If you want to eat more crispy, add 1-2 minutes
Turn off the oven for 10 minutes, then bring the cake out to dry on the crack to cool.
According to Zing

How to make apple shaped cake
In your spare time, you can try to make an apple-shaped cake that is both beautiful and delicious, without too many flowers and can surprise everyone in the family.
© Copyright 2022 HorizonMag