Senate Republicans on January 26 tried to stop a second impeachment trial against Trump before it even started. In particular, Senator Rand Paul pressed for a due process vote on the constitutionality of going to an impeachment trial after the president leaves office and becomes a regular citizen.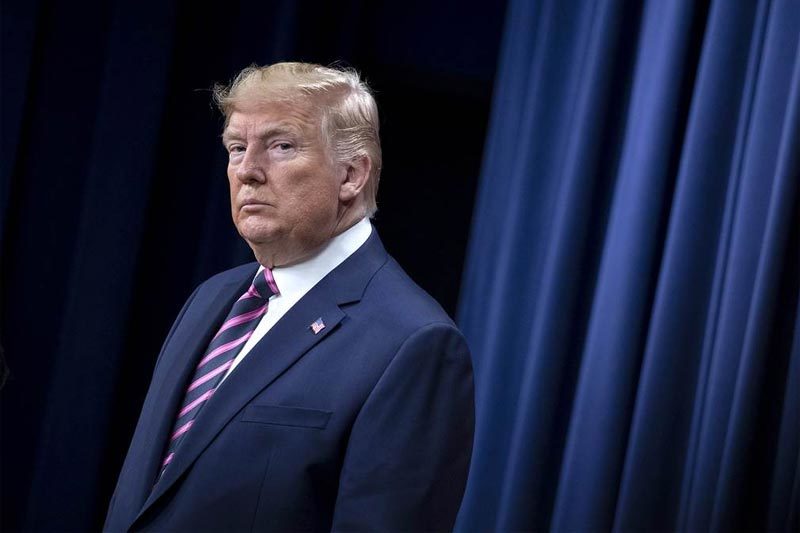 Former President Donald Trump. Photo: NBC
According to Time magazine, the move provides an opportunity for fellow Republicans to continue to show support for Mr. Trump, who was impeached by the House on January 13 for inciting riots. as well as trying to thwart Democratic attempts to convict him. "If more than 34 Republicans vote against the constitutionality of the proceedings, the whole thing ends when it comes to the Senate," Paul said before the vote.
However, Mr. Paul's attempt failed or was at least partially unsuccessful. With 55 votes in favor and 45 against, Democratic senators and 5 "anti-Trump" Republican lawmakers voted to reject this Republican congressman's effort, so the impeachment trial of the former leader of the House of Representatives. White will continue to be deployed as planned.
Senators will now have to consider whether Mr. Trump is guilty of inciting a crowd of protesters to flood the Capitol building on January 6. The outcome of the trial, however, was predictable, as Sunday's vote showed it was nearly impossible for Democrats to win the two-thirds of the votes needed to convict.
Efforts of Democrats
Commentators Tessa Berenson and Lissandra Villa note there has always been a major roadblock to Democrats' efforts to convict Mr. Trump, similar to the first impeachment trial. However, Democratic lawmakers chose to go ahead with impeachment and hold a trial to hold Mr Trump accountable for what Senate Majority Leader Chuck Schumer called a "criminal act". The most serious crime an American president has ever committed."
In the event that Mr. Trump is found guilty, the Senate will open the door to the possibility of barring the former president from holding future federal government positions. But even if he is acquitted, the Senate will publish arguments that set a precedent on limiting the commander-in-chief's speech and Trump will still be recorded in American history as the only White House leader. Has been impeached twice.
Senator Joe Manchin, a Democratic politician from West Virginia, told reporters that impeachment is the only appropriate way to hold the former president accountable for "inciting riots".
In theory, the behavior that led to the second impeachment against Trump is more obvious than what led to his first impeachment. Trump's 2019 impeachment in the House and subsequent trial and acquittal in the Senate early next year draw on a global array of figures, a maze of relationships and negotiations. behind the scenes between Ukraine and those close to Trump as well as a months-long House investigation.
This time, many Democrats in the jurors role believe that the trial will be faster because the amount of evidence likely to be submitted has already been made public. The House articles of impeachment accuse the former president of "deliberately making statements that encourage and possibly lead to subsequent unlawful action on Capitol Hill," through baseless claims about rigged elections, inciting crowds of supporters.
The evidences
The US Constitution defines impeachable offenses as "felony and misdemeanor". While there is some debate on this point, there is general agreement that an impeachable "felony" is not necessarily a legally indictable crime. In other words, whether a common court decides whether someone is guilty of inciting violence can lead to a different conclusion than if the Senate decides whether the president is in violation of his or her responsibilities. while in office or not.
Among the evidence that Democrats can present are remarks by Mr. Trump to protesters on the night of January 5 just before the day of the riots. The outgoing president then declared to a crowd of supporters: "You will never restore our country by weakness. You have to show strength and you have to be strong." He encouraged them to "fight" and said that America was "under siege": "I know that everyone here will be marching to the National Building soon. to make your voice heard in a peaceful and patriotic manner".
Some lawyers who sided with the former president argued that First Amendment protections for free speech, which may apply to Trump's statements, would be scrutinized. in court and can provide a strong defense.
"The actual words the President (Trump) used, even in the presence of tens of thousands of supporters, did not meet the standards that constituted incitement to riots. The words that opponents cite are the weakest form of evidence. Those are words every politician uses in any political race in American history," a former Trump White House official stressed.
The legal standard for incitement to crime or violence was first established in a 1969 Supreme Court case, Brandenburg v Ohio. According to the ruling in that case, speech determined to incite crime must meet 3 criteria including the speaker's intention to incite illegal actions, illegal actions that are likely to occur. and illegal actions are imminent.
Trump's allies say his behavior does not meet all three criteria. "I don't think he (Trump) intended to harm anyone," said Robert Ray, a member of Mr. Trump's legal team at the 2020 impeachment trial.
However, even if the senators agree that Mr. Trump's conduct does not meet the legal standards for incitement to riot, they could still decide to convict the former president at trial.
The New York Times quoted Republican Senator Susan Collins as saying she would not "prejudge" the evidence presented by the House. Based on the results of the vote to block Trump's impeachment trial in the Senate on January 26, Collins believes it is unlikely that the former president will be convicted.
Overview of the crisis on Capitol Hill in the US
Tuan Anh

Conundrum in Trump's impeachment trial
For the first time in its 232-year history, the US Senate put a former president on trial for impeachment. No one knows for sure how the trial will unfold. Democrats have not even decided whether to summon witnesses.

Trump is about to be impeached by the US Senate?
For the second time, the US House of Representatives impeached former President Donald Trump and this time about the deadly riot on Capitol Hill on January 6.