French President Emmanuel Macron, on February 4, reiterated his call for Europe's "strategic autonomy" and affirmed "it is our duty not to place ourselves in a position of dependence on the decision of the US". .
Some in Washington would be disappointed to hear Mr. Macron apply that framework to the US-China rivalry, the Axios newspaper said.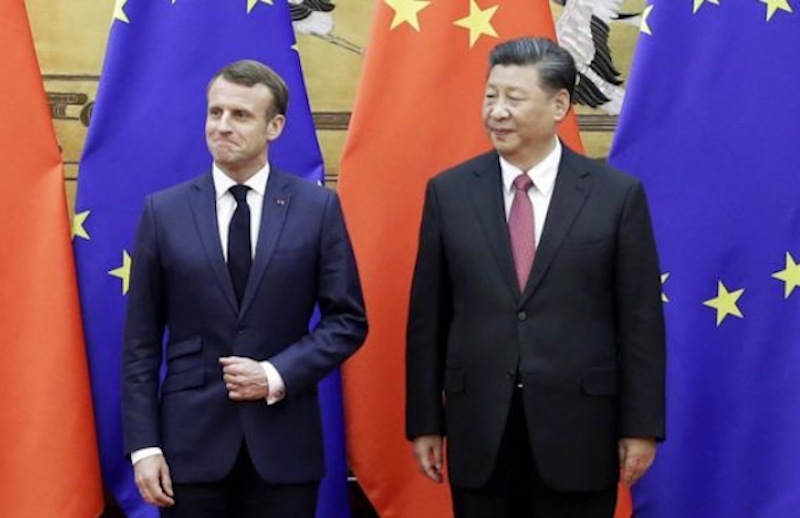 French President Emmanuel Macron and Chinese President Xi Jinping. Photo: Axios
Speaking at the forum of the Atlantic Council on February 4, the French leader explained that if Europe and its partners pursue a strategy of "together against China", it will only make Beijing worse. "increasing regional strategy" and reducing cooperation in global affairs.
Meanwhile, Europe cannot treat China as an equal partner with the US, because the Asian power is a systemic rival of values ​​and geopolitics in the Indian Ocean – Pacific.
Therefore, according to Mr. Macron, Europe must cooperate with the US on certain issues, work with China when possible, and "try to be a useful actor to push China not to deviate further. ".
The French president sets priorities on China, such as working with the permanent members of the United Nations Security Council to find consensus on security issues; Cooperation with China on climate change; Strengthen intellectual property protection and fair trade…
On Russia, President Macron reiterated his stance that regular dialogue with Moscow is vital to Europe's security, even as some seek to isolate President Vladimir Putin.
Regarding Iran, the French leader said he welcomed US President Joe Biden's desire to negotiate with Iran. "I will be here… to try to be an honest mediator, a dedicated mediator in this dialogue," Macron pledged.
The French president said that Israel and Saudi Arabia should be involved, and issues such as ballistic missiles should be brought to the negotiating table.
In another development, the foreign ministers of Britain, France, Germany and the United States have agreed to "restore transatlantic relations". During the four years of President Donald Trump's presidency, these relationships have suffered a lot, and the new owner of the White House wants to correct that situation.
On February 4, when he spoke for the first time on foreign policy as US president, Mr. Biden indicated that he would consider China "the most serious competitor" and continued to criticize Russia. He expressed his desire to return the United States to the familiar diplomatic trajectory, which is to work closely with allies in Europe and elsewhere.
Thanh Hao


Revealing US Secretary of State's call with Chinese diplomat
US Secretary of State Antony Blinken mentioned many issues in a phone call with senior Chinese diplomat Yang Jiechi today (February 6).

US commander warns of the risk of nuclear war with Russia, China
The head of the US Strategic Command warned that nuclear war with Russia or China was a "real possibility".