A mother goat in India gave birth to a baby goat with eight legs and two hips. Many people flocked to the goat farmer's house to see this eight-legged goat with their own eyes.
Goat born with 8 legs
A mother goat gave birth to a baby goat with eight legs and two hips. The owner of this goat is Saraswati Mondal who lives in Kalmegha, Bangaon city, India.
Saraswati Mondal keeps both cows and goats as pets at home and one of the goats gave birth to two cubs on Thursday, July 15. One of the two baby goats was born completely normal, the second had eight legs and two hips.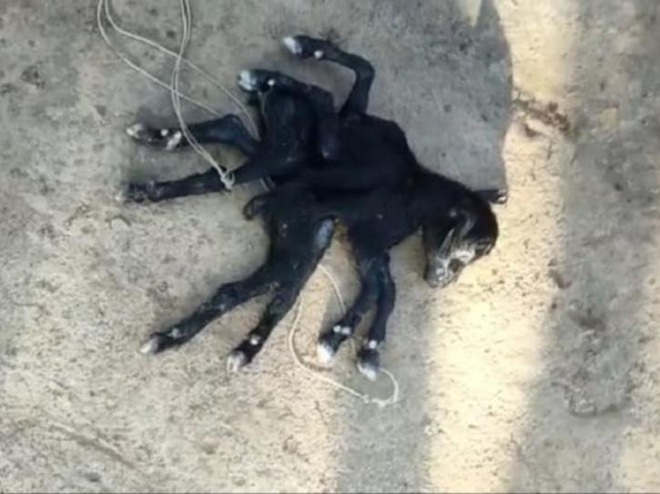 The goat has 8 legs.
Unfortunately, the goat born with eight legs and two hips died more than 5 minutes after being born. News of the strange goat spread throughout the village and locals flocked to Mondal's residence to see the goat.
"This is the first time I've seen something like this. Five minutes after the baby was born, the baby goat died. However, the mother goat and the other baby goat were healthy," Mondal told India Today.
This is not the first time in India something like this has happened. In April, a baby goat is born with a human-like face and is worshiped as a god in Gujarat. The baby goat was born in the village of Seltipada on the banks of the Tapi River in Gujarat.
The goat was born with four legs and ears like a normal goat. However the rest of the body resembles that of a human – it has a forehead, eyes, mouth and parts of a beard that look like that of a human. It also has no tail.
It is known that this goat survived for 10 minutes before dying. Locals prayed before burying its body.
According to Times/Dan Tri

The smallest cow in the world, only… 51cm
This super-small cow is likely to set a Guinness World Record with a height of 51cm, a length of 66cm, and a weight of 26kg.