According to the Wall Street Journal, the way members of Biden's China policy team work together could determine whether the new administration has a unified or divisive policy toward Beijing.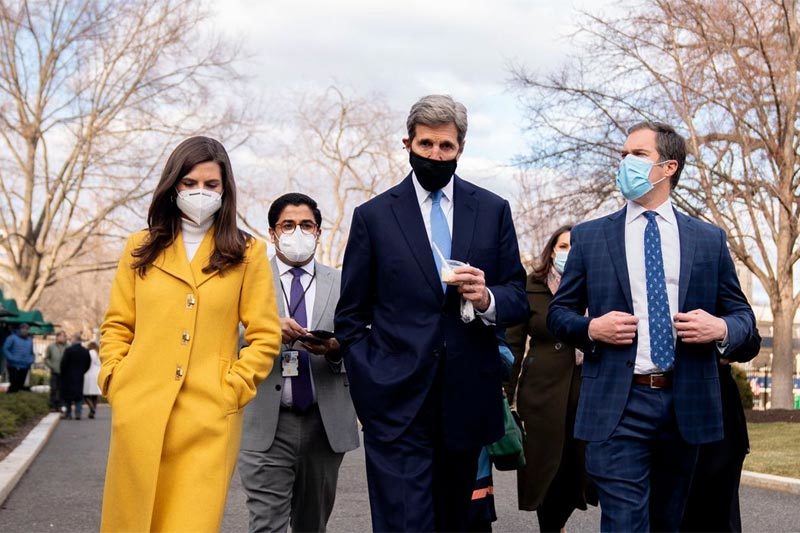 Policy advisers to US President Joe Biden. Photo: WSJ
Former Secretary of State John Kerry, now the White House climate envoy, is pursuing an international climate agreement that requires the cooperation of China, the largest emitter of greenhouse gases. world, to promote efficiency. Meanwhile, Kurt Campbell, the White House's China coordinator, wants tough measures against Beijing.
Both officials are on the National Security Council headed by Jake Sullivan, who worked with them during the Obama administration. Susan Rice, a former Obama-era National Security Adviser and now Biden's domestic policy adviser, could also meddle in some China issues, according to some of her former colleagues.
Mr. Sullivan now needs to combine their views with those of the heads of the Treasury Department, the State Department, the Commerce Department and the Office of the U.S. Trade Representative, who often have different views.
During last week's hearing, Biden's nominee for commerce secretary Gina Raimondo did not commit to continuing to blacklist Chinese telecommunications company Huawei like the Donald Trump administration, although neither did Mr. and Mr. Sullivan have both previously identified the business as a security risk. The next day, White House spokeswoman Jen Psaki called Huawei a "threat to the security of the United States and its allies."
Some advisers outside Mr. Biden's team said that the above differences in priorities and personal views are similar to the famous strong-willed cabinet, dubbed the team of opponents of the Bidens. former President Abraham Lincoln. However, according to them, the group of rivals this time can get along better thanks to the long-standing friendship of many high-ranking officials.
The new US administration is still pondering its strategy with China, though it is focused on investing heavily in cutting-edge technology at home and rallying democratic allies to create a "unified front." anti-Beijing as Biden wishes. That includes consulting allies before deciding whether to lift tariffs with China.
A senior official in the Biden administration revealed that the new White House leader did not want to talk to Chinese President Xi Jinping until he had his first phone calls with the two leaders of India and South Korea. , as well as other potential partners in the region.
Some of Biden's allies, however, have warned that his China team could open up rifts on issues like human rights or industrial policy, which often leave officials in charge. economic conflict with national security officials in previous administrations.
Beijing is believed to have long tried to exploit the contradictions to pit officials in Washington against one another, to ease pressure on the mainland on a range of issues, from trade to Taiwan.
With the Trump administration, Beijing has sought to win over Treasury Secretary Steven Mnuchin, who views China as an important contributor to the global economy. Mr. Mnuchin was able to stop those who wanted to consider cutting off Chinese banks from the US dollar system.
According to the Wall Street Journal, China's leaders are trying a more proactive approach with Biden's new team, after finding they often fell on the defensive in dealing with the previous US administration.
Since late last year, Beijing has been trying to send top diplomat Yang Jiechi to Washington to discuss an early US-China summit. The Chinese representative also recently condemned the US military exercises in the East Sea, on the day Beijing showed its strength when sending fighter jets close to Taiwan (China).
So far, Mr. Biden's team has not responded to Beijing's moves because it wants time to map out a China strategy.
Officials in the Biden administration insist they are united on the China strategy. Within the administration, concerns have mainly centered on whether Mr. Kerry and Mr. Campbell will behave as part of a group or try to dominate relations with China.
Mr. Kerry, 77, is currently reporting directly to the president, with whom he served on the Senate Foreign Relations Committee for 24 years. Colleagues say Mr. Kerry is the type of person who is willing to ignore the bureaucratic constraints, get on a plane and negotiate a deal with Beijing. However, the official has pledged not to sacrifice military or economic priorities for a climate deal.
Meanwhile, Mr. Campbell, 64, is an experienced official who has worked for decades on China policy and has long-standing relationships with Chinese officials. Along with Mr. Sullivan, Mr. Campbell helped shape the Obama administration's China policy.
If former Secretary of State Hillary Clinton is elected president of the United States, Mr. Campbell is probably the leading candidate for Secretary of State. He currently holds a lower office, under Mr. Sullivan, 44. The two agreed that the United States needed to rebuild "a dense network of relationships and institutions in Asia and the rest of the world" to compete with China.
Tuan Anh

Officials appointed by Trump to sue President Biden
A member of the US administrative advisory council, appointed by former President Donald Trump before leaving the White House, accused the administration of new President Joe Biden of trying to illegally remove him.

Mr. Biden's difficult China problem
During his four years in office, President Donald Trump made it clear to Latin America that he would not do business with China. But this message doesn't work.