Above is the assessment of Frederick Kempe, a famous journalist and CEO of the Atlantic Council on global affairs, in an article titled CNBC.
Mr. Kempe points out that that boldness can be measured graphically: $4 trillion and the amount of money he hopes to generate to fund America's post-pandemic recovery, improving jobs. and growth, the same mountain of investments in national infrastructure.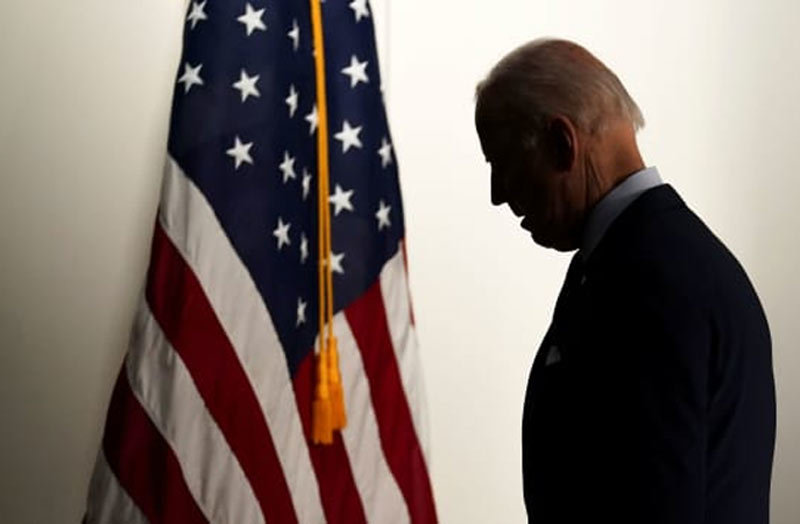 U.S. President Joe Biden leaves the room after giving a speech on jobs and the economy at the White House in Washington, April 7, 2021. Photo: Reuters
Never before has an American president so closely linked domestic investments to America's global standing – and now Joe Biden is acting on that belief.
President Biden made sure no one missed the link with China when he launched his infrastructure spending proposal this week, which he called "the single largest single investment in people's jobs." America since World War 2″.
"You think China is waiting to invest in this digital infrastructure or in research and development? I assure you they are not, they are relying on it. American democracy is moving too slowly, too limited, and too divided to keep pace… We have to show it to the world. We can unite for great things," he argued.
Biden administration officials say they're learning some lessons: Don't get distracted by criticism on cable TV about your plan, don't let economists throw stones at you, don't count on an upswing. bipartisan support, and don't set your sights too low.
President Biden has shown for the first time how much he wants to get through the $1.9 trillion American Rescue Plan, passed in early March. This is one of the largest economic stimulus bills Americans have ever seen. It's more than what Republicans, or many economists, consider necessary, but Mr. Biden received support on the ballot.
Then, this week, he laid out a $2.3 trillion spending plan on infrastructure. Define a category that includes everything from bridges and broadband networks to spending for the elderly and early childhood education.
The mistake many critics of President Biden make is that they focus only on spinning numbers — rather than on politics. All these trillions are less than his down payment to secure America's place in the world, his place in history and the Democratic re-election. In the short term, that means Americans see enough results to warrant midterm elections in 2022.
From that perspective, what might have been reckless economics to conservatives seems to be conservative politics for the Bidens. In some respects, what President Biden is doing is capitalizing on his own good fortune. Although Biden has suffered a lot in his life, both personally and politically, the stars have been aligned since his election.
A recovery from the Covid pandemic in 2021 is certain, but the Biden administration's tight control of vaccine distribution has fueled the process and his political standing. Last week, Mr. Biden pushed back the deadline for all eligible adults to be vaccinated against Covid-19 to April 19.
Economic recovery this year is also certain. However, according to IMF projections, the Biden administration's stimulus measures are likely to lead to growth of 6.4% this year, the highest since 1984 and then 3.5% in 2020. year 2022.
It remains to be seen how much economic and political momentum can be bought by $4 trillion. However, JP Morgan's Jamie Dimon thinks vaccines and deficit spending could cause the US economy to boom (possibly until the end of 2023), meaning past the midterm elections, a time when Mr. Biden's team knows that victory will be crucial to their larger goals.
It's hard to know what impact this will have on China, but so far, the rivalry between Beijing and Washington has been intense since the early weeks of the Biden administration.
International visitors to China over the years have noticed the growing confidence of officials in Beijing in the country's rise and the inevitable decline of the United States. Many of China's actions at home and around the world reflect confidence that it can act at a modest cost with impunity.
China also bets that, since many of America's most valuable allies and partners — Japan, South Korea, Germany, and the European Union at large — see China as their number one trading partner, they won't want to. join any common goal against Beijing.
The exchange of the two sides during the recent face-to-face meeting in Alaska further illustrates how difficult it is to manage an increasingly acrimonious relationship.
Perhaps the most compelling reason for President Biden to combine domestic and international goals is that he is more likely to find political consensus around the need to confront China than to find any on his own. any of your spending plans.
Thanh Hao

Biden proposes 'huge' military spending to deal with China
US President Joe Biden is about to propose a defense spending of up to $715 billion, to counter the "top challenge" from China.

Biden wants to spend $2 trillion to 'reshape' the US economy
President Joe Biden on March 31 called for using US government resources in "reshaping" the world's leading economy.