Pyongyang has launched several short-range ballistic missiles, demanding a response from the United States. But this is not a "crisis" nor a "major challenge" for Washington, author Bruce Klingner specializing in Northeast Asia wrote in a post on the Heritage Foundation's website on March 29.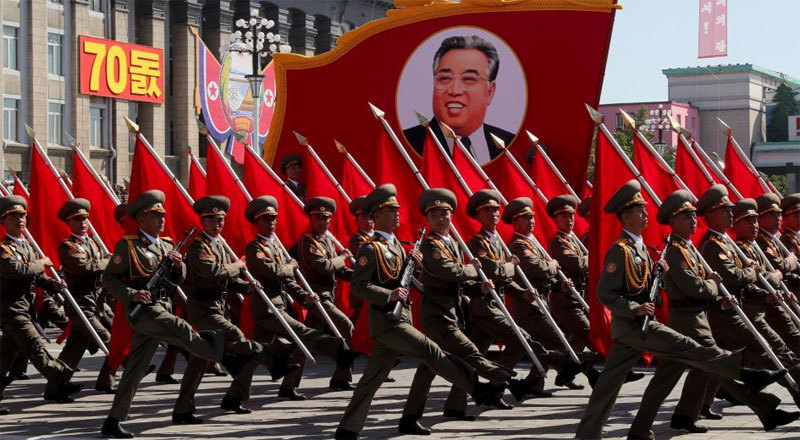 Photo of a military parade in Pyongyang 2018. Photo: TASS
The author recommends, though, that the administration of President Joe Biden also needs to prepare for the more drastic moves that North Korean leader Kim Jong Un may have planned for the coming months and days.
On March 25, Pyongyang launched two short-range ballistic missiles (SRBMs) with flight configurations similar to the KN-23 or KN-24 that were widely tested in the 2019-2020 period. That could be part of large-scale drills underway during the North's winter training cycle, which Pyongyang continues to hold despite the US and South Korea's cancellation or scaling back of joint exercises.
Last week, North Korea also launched two short-range cruise missiles that are not covered by UN resolutions banning tests.
These new launches by North Korea could be a test of the development of some of the missiles that appeared in recent military parades.
Some believe North Korea launched missiles in response to some actions by the Biden administration, such as the recent trip of the US secretary of state and defense secretary, miniature military exercises with South Korea. China or the White House leadership's denial response after Pyongyang's cruise missile tests. However, the reality is that Pyongyang has been planning missile events long in advance.
While cruise missile and SRBM launches are on the low end of North Korean action, they suggest Pyongyang is most likely preparing a more escalatory series of actions, according to expert Bruce Klingner.
In March, South Korea's Joint Chiefs of Staff announced there were "many indications" that North Korea had deployed multiple rocket launchers and other weapons on Changrin Island on the inter-Korean border, near the South Korean border. demilitarized zone (DMZ). This is the site of North Korea's artillery drills in November 2019, which Kim Jong Un personally supervised.
While not in violation of UN resolutions, such drills are seen as a threat signal to South Korea.
North Korea also often does big things, such as a nuclear or long-range missile test, in the early days of a new US or South Korean government, because it believes it gives them leverage. North Korea has no shortage of new missiles to test-launch, and has revealed several new systems in recent military parades.
The Kim Jong Un regime may test-fire a new giant intercontinental ballistic missile (ICBM) or two submarine-launched ballistic missiles (SLBMs) ​​that will be paraded in October 2020 and January 2021.
ICBM Hwasong-16, the world's largest mobile missile on a launch vehicle, is larger than North Korea's two existing ICBM models, both of which were successfully tested in 2017. Because those missiles can reach Everywhere in the United States, the purpose of the new heavier missile would be to carry three or four nuclear warheads or aid penetration, to defeat the missile defenses that protect the United States.
North Korea also put new SLBMs Pukguksong-4 and Pukguksong-5 that can carry nuclear weapons to the parade. They have a longer range than the Pukguksong-3, which was tested in October 2019 and have a range of about 1,900km. These missiles could also form the basis of a ground-launched medium-range missile, or even an early stage of a solid-fuel ICBM, which North Korea currently does not have. South Korea does not currently have any missile defense systems against SLBMs attacking from either side of its sea.
Those actions, as Klingner points out, would increase tensions, putting the Biden administration in a bigger challenge than recent launches. North Korea's next provocations are no longer "whether yes", but "when". Assessing their type and severity is critical for the United States to respond appropriately.
While Washington does not need to react to every statement by Pyongyang, ballistic missile launches do require the United States to act. The Biden administration needs to consult its allies South Korea and Japan for a coordinated response at the United Nations, such as condemning and warning that escalating violations will further undermine the negotiating potential and leads to more follow-up actions.
When it has completed its policy review on North Korea, the Biden administration should signal its continued willingness to engage in dialogue and negotiations with Pyongyang, while affirming its strong alliance with South Korea and Japan, and exploring missile defense options for the United States and its allies, and resolutely respond to any violation of United Nations resolutions.
According to Klingner, President Joe Biden should not give up denuclearization as a long-term goal, but should not make concessions just to bring Pyongyang back to the negotiating table.
And while the United States may be able to stand up to the missile crisis, other actions by North Korea will actually challenge the Biden administration, and that may soon be the case.
Thanh Hao

North Korea's ballistic missile power just tested
The North Korean government confirmed that it had launched two short-range ballistic missiles into the waters east of the Korean Peninsula early on March 25.

North Korea continuously tests missiles, 'stimulating' the US and warning Japan?
North Korea has repeatedly launched missiles in the past week, raising tensions ahead of the 2021 Tokyo Olympics and putting more pressure on the administration of US President Joe Biden.