Recently, the incidents of theft and robbery when traveling to Europe have attracted many Vietnamese tourists.
Half a month of traveling to Europe… don't dare to wear beautiful clothes
Nguyen Ngoc Phuong Oanh (HCMC) and her husband have just had a month-long trip to Europe. You returned to Vietnam a few days ago. "Up to now, when I think back to what happened in Venice, I still shiver. Almost, my bag was stolen in front of the couple's eyes," Ms. Oanh said.
Over the past two years, Ms. Oanh has had to delay this trip to Europe many times because of the Covid-19 epidemic. First time going to Europe, so I'm really looking forward to it.
"I don't have much experience in traveling to Europe, but my husband has been there many times. Before the trip, he and many friends warned me about robbery and theft in Paris, Milan. My husband himself. once lost suitcases," said Ms. Oanh.
Therefore, in the journey through Paris (France), Brussels (Belgium), Amsterdam (Netherlands), Milan (Italy), you are very careful. Every time they leave the hotel, the couple choose simple and neat outfits but still polite and suitable for their own fashion. Ms. Oanh also chooses to wear handbags close to her body. If she carries a large bag, she will ask her husband to carry it for her. "My husband is quite tall, used to work in the security industry, so he is more careful and sensitive than me," Oanh shared.
Phuong Oanh and her husband in Paris, France
You also do not carry much cash with you. They often carefully store money and passports in hotel safes, only holding 200-300 Euros (4.8-7.3 million VND) in cash and bank cards when going out. Oanh's husband carefully prepared the belly bag. He divided the money into parts and stored them in different places. They also limit going out at night to ensure safety.
When going to Paris, Ms. Oanh and her husband directly witnessed the scene of a group of tall black men, gathered in large numbers to grovel and rob a tourist near the Trocadéro square. "That image haunted me.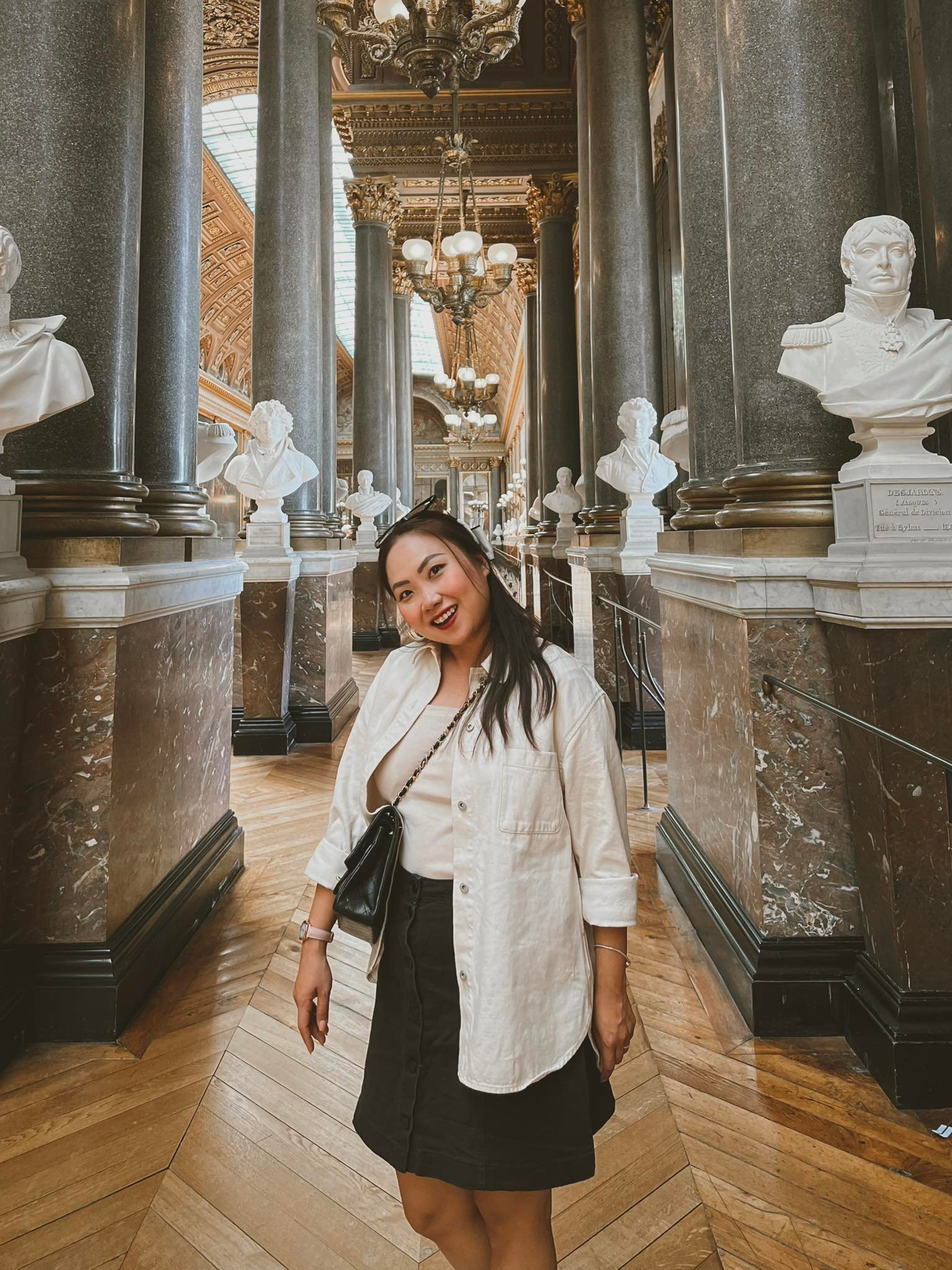 Haunting the scene of looting
"After half a month in Europe traveling with smooth sailing, the couple felt more comfortable going out. Until we arrived in Venice, because of a little carelessness, subjectivity, almost, I lost my car. bag of 4,500 euros (more than one hundred million dong) just bought in Milan," said Phuong Oanh.
Ms. Oanh admitted that before coming to Venice, she had never read the warnings about theft and robbery here. When coming to this city, she was immediately conquered by the ancient and peaceful beauty. "I think this is an isolated island area so it will be safe, similar to Con Dao, Phu Quoc in Vietnam. I am quite naive to think that in the islands, theft is less because it is difficult to run away. People here mostly walk, so I let my guard down," said Phuong Oanh.
Believing in the safety of Venice, on the second day, Ms. Oanh decided to wear a beautiful dress and carry a branded handbag she just bought in Milan to go for a walk and take pictures. "The mentality of anyone who travels also wants to have beautiful photos, suitable for the context. Me too. Italians also love fashion, so they wear very beautiful clothes and use many brands." Oanh shared.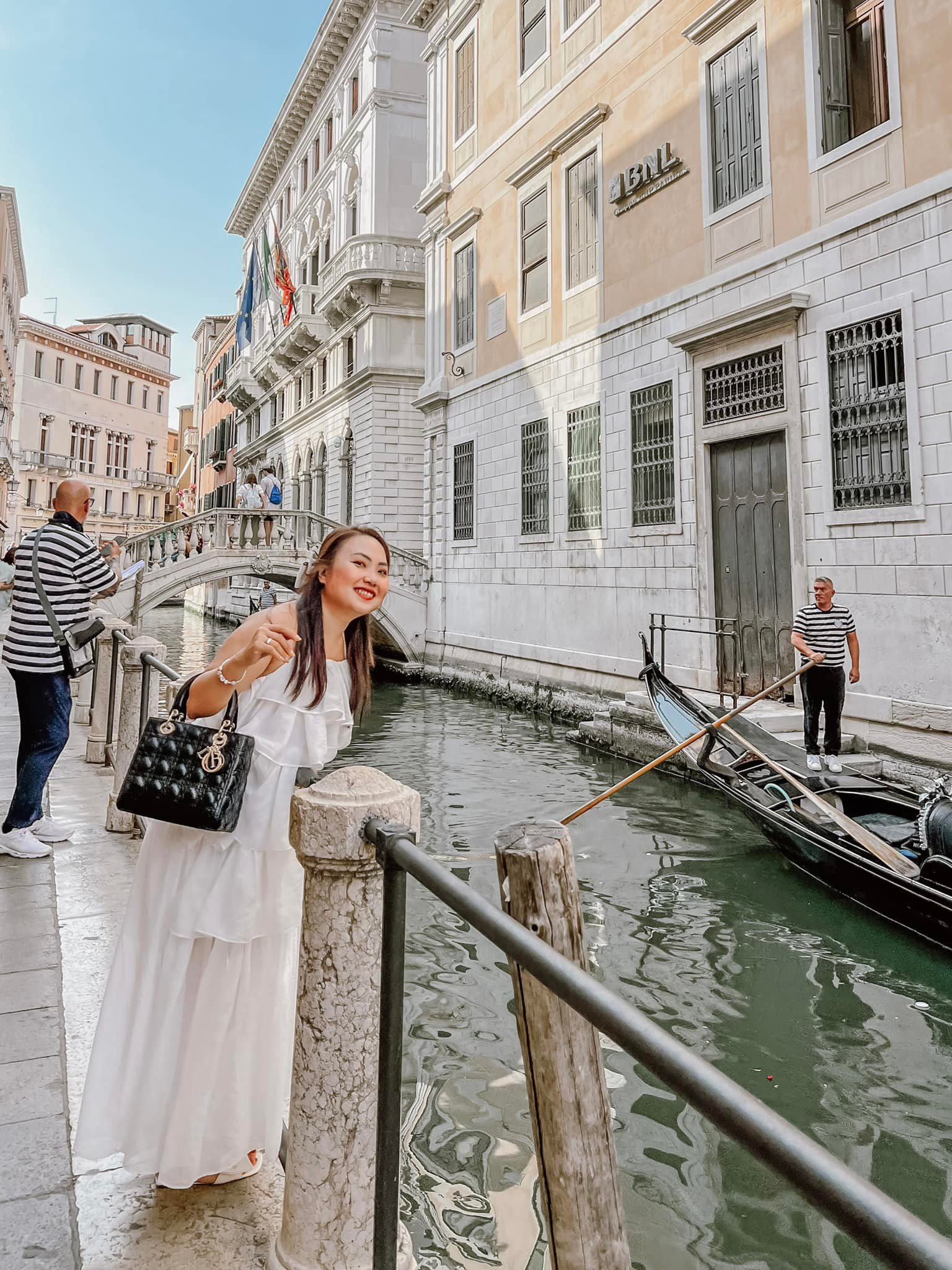 Around 1pm, when Ms. Oanh was walking along the street, a man from the opposite direction crashed into her. The strong and sudden impact caused her to be pushed back, the bag squeaked loudly (because on the bag there are some accessories that make a sound on impact). Oanh's husband went right behind, so he quickly took his wife. In a split second, the couple could no longer see the man.
When Oanh regained her senses, the couple hurriedly checked their jewelry. "Seeing that there were still furniture, shaking hands, on the occasion of the wedding, we breathed a sigh of relief, only feeling that the other man was too impolite. After that, the couple calmly walked around, taking virtual photos", Ms. Oanh said. tell.
However, only about 5 minutes later, they realized that the bag strap slowly opened. Ms. Oanh panicked and didn't understand what was happening because the strap attached to this bag was really solid.
Only a few hundred meters away is a store of the above handbag brand. Ms. Oanh and her husband quickly gave the bag to "emergency". The store staff were also very surprised when the hook that connected the bag and bag could be opened like that. When listening to Ms. Oanh narrate the incident, the staff immediately realized that they had met a group of actors, robbing bags – not unusual in this city.
"Now I know, after the object hit me hard, it can cause me to fall, the bag will open. Take advantage of that time, there will be another object to steal the bag. If there is no husband to follow, help quickly. hand, that hit can make me fall back, lose my temper," Ms. Oanh said.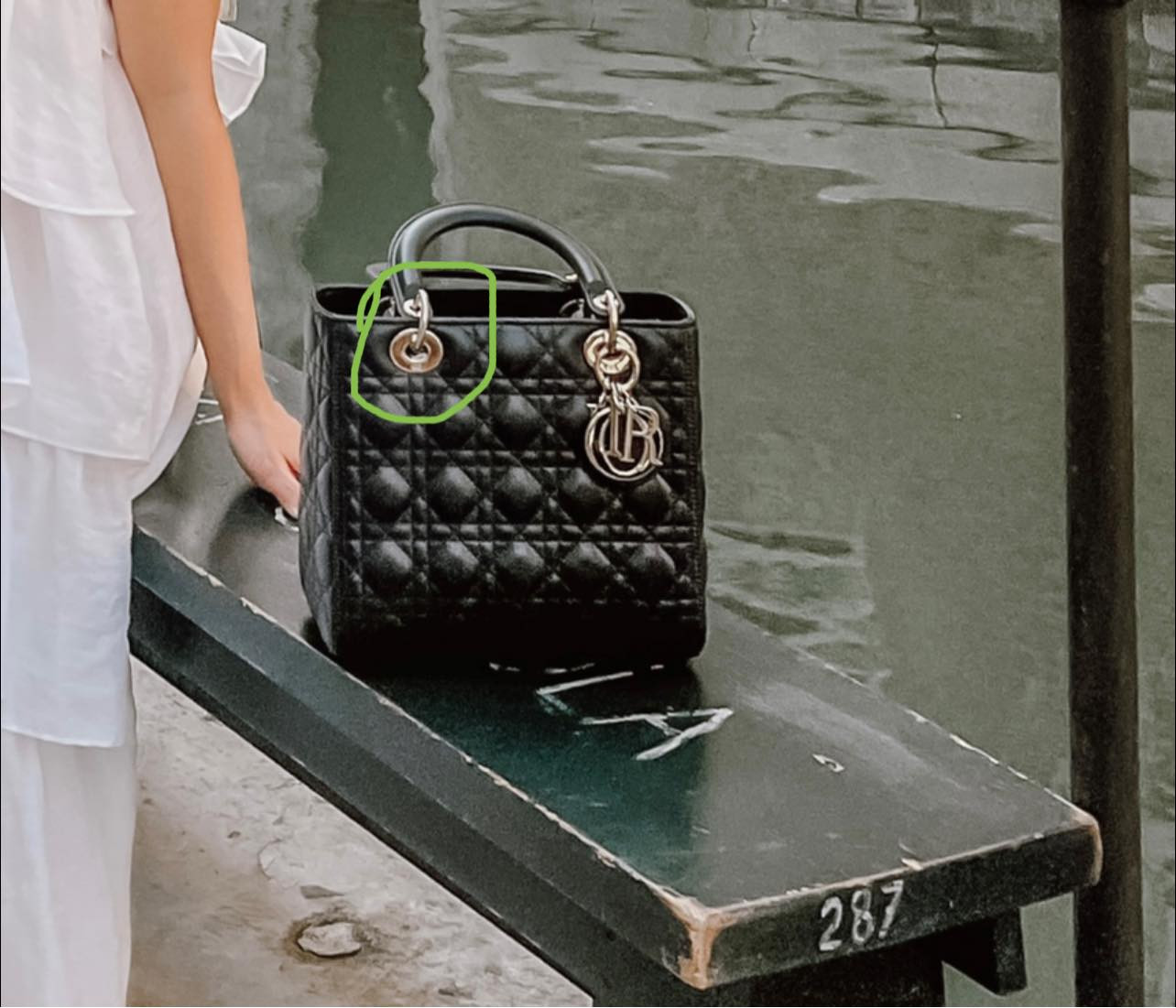 After the incident, Ms. Oanh hurried back to the hotel and put the bag in her suitcase. In the following days, when she went to Rome, Santorini, Athens (Greece), Ms. Oanh did not dare to wear splendid costumes and branded bags. The couple is much more vigilant.
"The couple was careful most of the trip, but even a minute of negligence put themselves in danger," she said.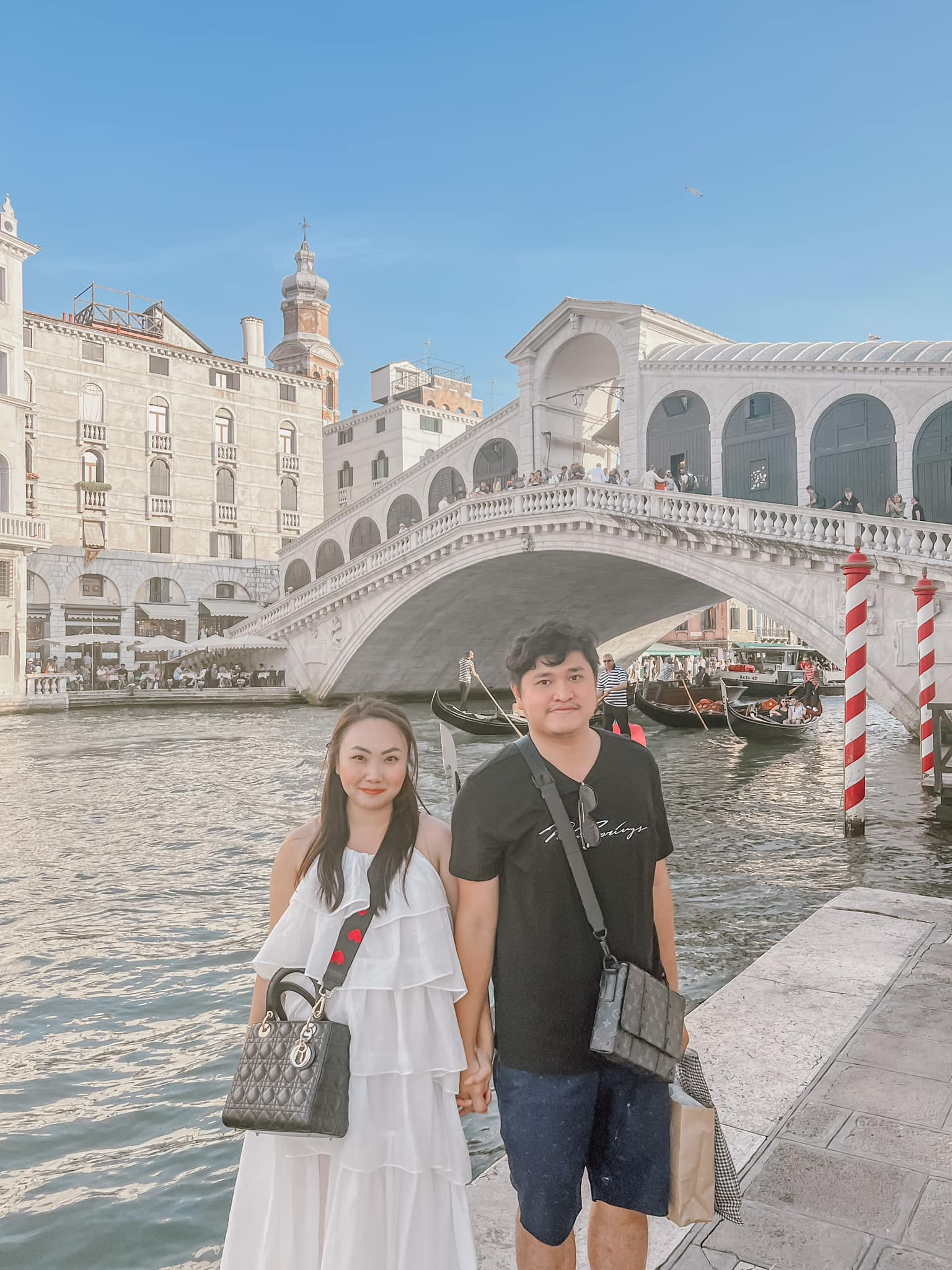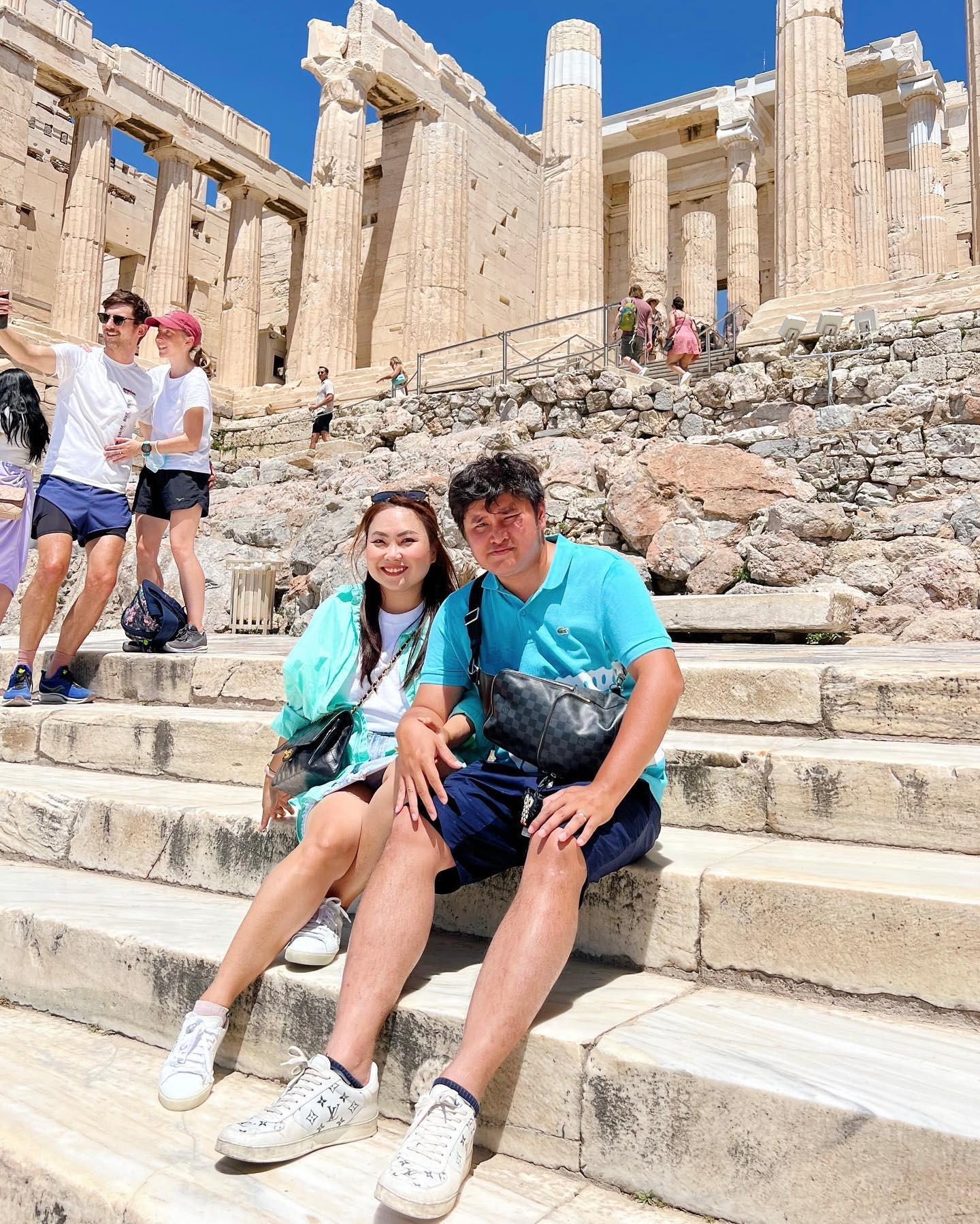 "After a month of experience in Europe, in my opinion, although Vietnam tourism has limitations, it is very safe and friendly. When traveling to European countries, tourists should not be subjective, need to learn and prepare a plan to protect themselves carefully," said Oanh and her husband.
Phuong Oanh's post has received thousands of interactions. Many people have also shared experiences of being staged looting that they have encountered in Europe. The collision technique to distract attention and create an accident scene is applied by many subjects.
Nguyen Ngoc Phuong Oanh (Linh Trang write the)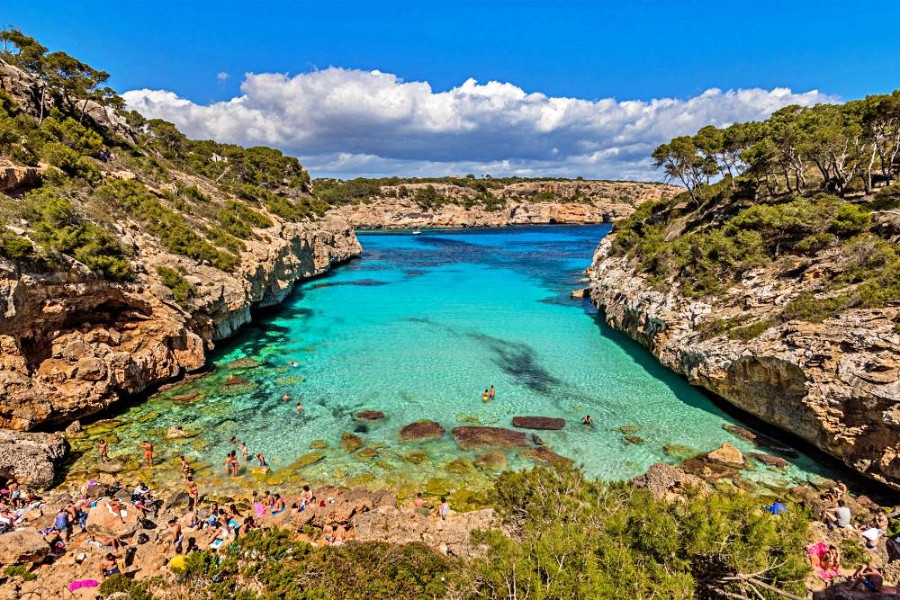 Majorca – a summer tourist paradise where it is easy to meet famous actors and artists
Majorca – the island of Spain is a destination that attracts tourists around the world. The specialty of this island is the long white sand beaches, crystal clear blue sea water.