The image of two female tourists wearing ao dai and shorts, posing for check-in in Hoi An ancient town made many people angry, thinking that this is offensive behavior.
Recently, a clip recorded the image of two girls wearing Ao Dai and shorts, posing to check-in right at Nguyen Thai Hoc Street, in the center of Hoi An ancient town (Quang Nam province) has attracted attention on the Internet. Social Network. After only 2 days of posting, the clip received 7 million views and tens of thousands of shares.
Many people angrily commented, saying that this image was "offensive". They believe that the female tourist dressed in this way is a lack of respect for the traditional costumes of the Vietnamese people and the ancient town of Hoi An.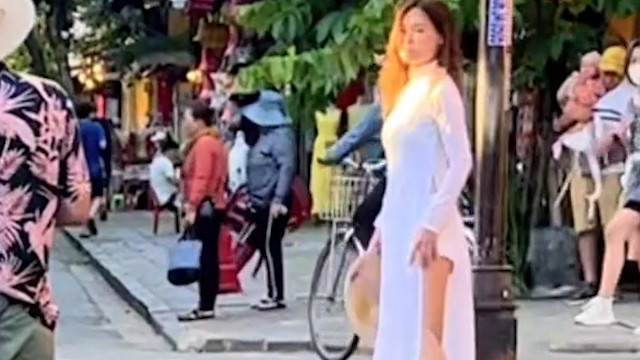 "It's so disappointing to see this image. They are making the Vietnamese ao dai ugly and don't respect the culture of Hoi An," an account commented.
"This is not the first time this has happened, but why does it happen again? Looking at this picture, I feel extremely angry. I can't accept the sight of tourists wearing ao dai, holding conical hats but… accompanied by shorts. Please respect the culture of the country!", another wrote.
According to the account that posted the clip, the two girls appearing in the clip are not Vietnamese but may be foreign tourists visiting and traveling.
According to PV VietNamNet's research, currently, the leaders of Quang Nam province have received information about the incident and assigned the Hoi An City People's Committee to clarify.
In April, a Malaysian female tourist also used to wear ao dai, but revealed an offensive round 3 when sailing, dropping flower lights on Hoai River (Hoi An, Quang Nam). After the incident, the representative of the Culture and Information Department of the city had an exchange of boat owners, restaurant owners… reminding tourists to keep "pure customs and traditions" with traditional costumes when visiting Hoi An. . As for the Malaysian female tourist, this person wrote an apology on her personal page after receiving too much criticism.
Linh Trang